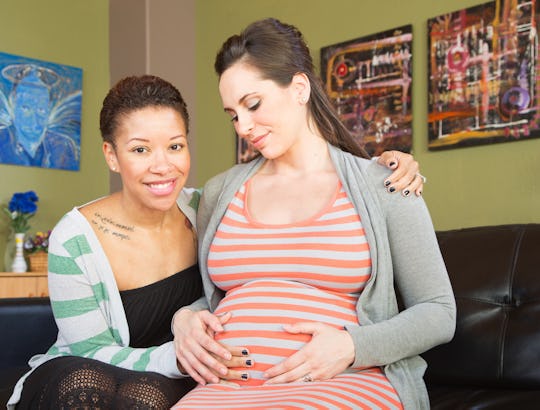 Fotolia
8 Ways Maintaining Your Marriage After A Baby Is Harder Than Caring For A New Human
Having a baby is awesome. Being married is awesome. However, both of these life choices are really challenging, and staying married when you have a baby is one of the hardest things a person can possibly do. Maintaining your marriage after having a baby is often way harder than actually caring for said baby; a fact that doesn't always come across in the "happily ever after" scenarios we're used to hearing. This goes for all romantic adult partnerships, of course, not just marriages. Marriage is the one that I have the most experience with, though, so that's what I'll refer to.
I want to note before continuing that I'm talking about ordinary, run-of-the-mill married folk struggles here. Given the fact that instances of domestic violence and abuse spike when a woman is pregnant, and right after a new baby is born, I think it's important to include a quick acknowledgment of relationships that go beyond the "this is tough because our baby is really taxing our nerves and draining our energy right now" kind of grind. If you are in an emotionally, physically, sexually, and/or financially abusive relationship, get professional help, rally support, and make a plan to leave. Please do not put yourself or your children at risk for the sake of "keeping your family together." Children do not benefit from being in an abusive home. Please don't prioritize a marriage certificate or societal expectations about an "intact" family over your or your children's safety and well-being. If you are in a relationship that would break your heart for your child to experience, please do everything in your power to get out (if you can).
That being said, even great relationships take work. Speaking from experience, I can say that having kids tests even the strongest of partnerships. Everyday, I feel extraordinarily grateful to be married to my best friend, and to have a partner who would literally do anything to make me happy. We are both die-hard feminists, firmly on the same page about how we want to raise our kids and how we view our partnership, and are compatible on virtually every other dimension you can measure. Still, and even under these great, almost enviable circumstances, there are moments when I have to dig deep and work in order to keep our marriage together, while finding our way through this early phase of our newest child's life.
It definitely helps to remember that this time is really short. Being on the same page about priorities, keeping our lines of communication open, and presuming positive intentions about each other's actions helps, too. So does remembering the following things about what makes being in a marriage with young children so inherently difficult; things that aren't specific to us or anyone, but are just part of the deal for parents of new humans everywhere.