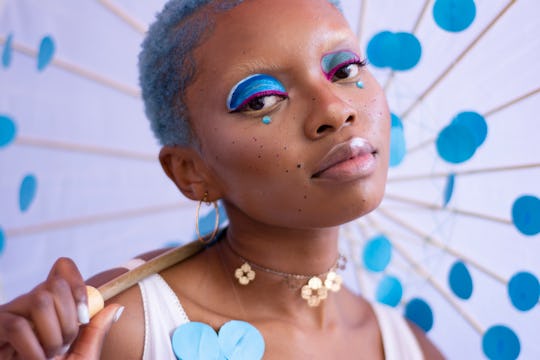 Masego Morulane/Moment/Getty Images
These Ethereal Fairy Makeup Looks Will Turn Heads
From simple swirls to intricate jeweled masks.
For most of us, our everyday makeup looks are pretty minimal, but every now and then we find a good reason to liven things up a bit with some extra color, sparkles, and even fun accents. If you find yourself in this situation, then consider trying out a gorgeous fairy makeup look. You can add a lot of whimsy (and magic) to any outfit with this fantastic trend.
Fairy makeup looks have continued to grow in popularity, both as costume makeup or just for fun events (or everyday life, really). In fact, in 2021, searches for fairy makeup on Pinterest increased by 31 times compared to the previous year. It's no wonder why, either, because the style is absolutely stunning with lots of shimmery touches and jeweled accents. It's also incredibly versatile because you can opt to create a fairy makeup look with pastel colors, bold primary hues, or stick to greys and blacks to match your style or costume.
As beautiful as this trend is, it might also seem a bit intimidating to someone who doesn't have a ton of makeup experience, but there are plenty of looks that are pretty simple to recreate, not to mention there are countless makeup tutorials online that will give you step-by-step instructions to get that perfect fairy look. First, though, you need to decide what kind of look you're going for, so here are some incredible fairy makeup looks to help inspire you.