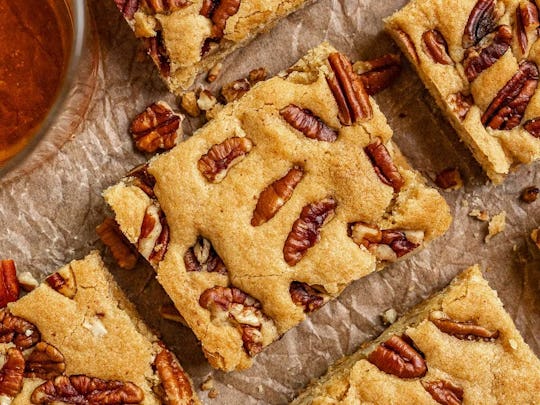 19 Fall Desserts For Thanksgiving That Aren't Pie
Maybe it's time to mix it up this year.
Just as turkey is the main dish and mashed potatoes are a staple side, there is one dessert synonymous with Thanksgiving — pie. Whether you're a pumpkin pie stan or a pecan pie devotee, you can always get your fix on the fourth Thursday of November each year. But there are those among us curious about fall desserts for Thanksgiving that aren't pie (gasp). While classic pies will always have an undisputed place in the spread, there are countless other incredible recipes — cakes, cookies, tarts, and more — that might be worth a try this year.
Thanksgiving desserts don't need a remix. Pies are delightful and delicious and often made from recipes our families have been serving for years. Just don't box yourself into Pie Land too tightly. There are so many other seasonal flavors, like pear, chai, and cinnamon, that lend themselves well to other desserts. And if the oven is full of other foods, being able to throw an apple crisp together in the slow cooker is just really handy. It's nice to have some alternate dessert options for the folks who aren't big pie people, especially if there will be kids in attendance.
Ultimately, the best reason to serve a new dessert at Thanksgiving is because more is more when it comes to sweets. All of these recipes will hold their own, even if they can never replace your favorite pecan pie.
Your relatives may be stunned to see a non-pie on the dessert table, but who knows — with one of these recipes, you might just sway them to the dark side this year.