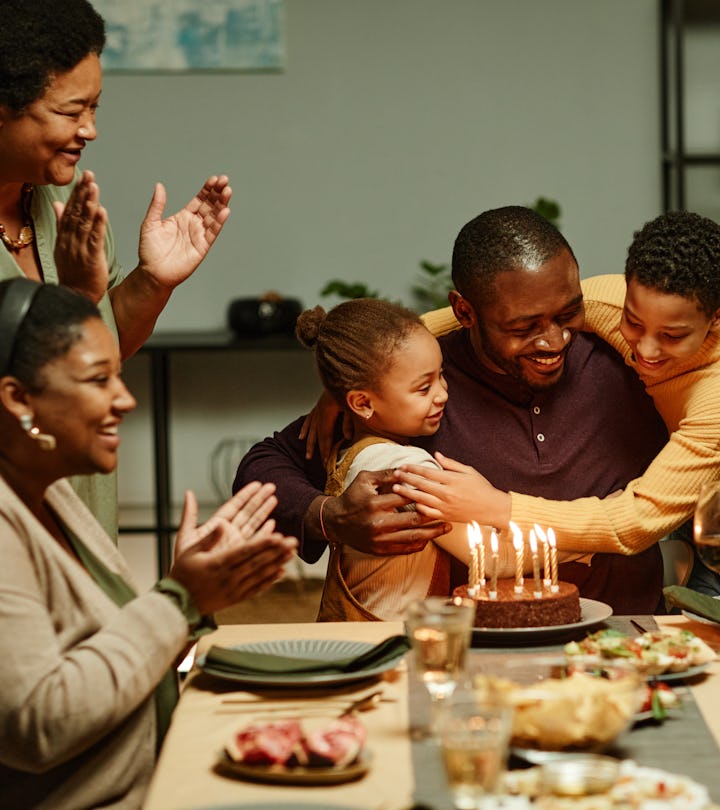 Shutterstock
Here's Why Family Traditions Are So Important, According To Experts
They can create connection, stability, and help foster a sense of self.
Perhaps you pick up two pepperoni pizza pies on the way home from soccer practice practically every Friday night. Or maybe the whole family gets together annually for an insane Super Bowl party, complete with football trivia and appetizers. Whether you realize it or not, what you're doing is creating (and keeping) family traditions, which can be so utterly important for the sanctity (and emotional safety) of your entire family.
What is a family tradition?
Although it's going to look different depending on who you ask, family traditions tell the story of the people you love the most. They can be grand (think a family vacation, complete with all the cousins and grandparents to a specific spot each year) or it could simply be eating 12 grapes to have a lucky New Year. But no matter what it is, it's bound to boost bonding, according to Dr. Kimberly Parker, LCSW, Ph.D., a licensed clinical social worker and Ph.D. psychology candidate. "Family tradition is generational acts through food, music, storytelling, and belief systems whether it is religious or not, and art which can be displayed in many forms," she says. "Family tradition is the knot that keeps the family knitted in place — these customs are part of your family tree, the stories that are knitted throughout time for each generation to experience."
But let's say that your family doesn't do things traditionally. That's totally fine, because family traditions aren't necessarily meant to be, well, traditional. They're customs that your crew does that are unique to your family, and they can be fun and festive, or serious and mindful. And the best part is that you can always adopt new ones to see what works for your family and what doesn't. So don't think that if you don't have any real traditions to speak of that you can't try one out for size and see how your kids like it. "It's never too late to start a family tradition," says Parker. "Each year you do it, it builds meaning and new memories."
Benefits of family traditions & why they're important
It might seem silly to visit the mall Santa — especially when your kids are old enough to know how the holidays really work — but still, everyone gets dressed in their finest duds and poses happily with Santa, and for a moment, belief is somehow suspended. The thing is, this family tradition is not just about a picture with a guy in a red suit, but a moment, a feeling, and a connection to each other — and to something greater than ourselves. "The benefits of family traditions are a greater sense of identity — self and culture — the deepening of family relationships, and a sense of community," Dr. Jackie Darby, Psy.D., CGP, a licensed clinical psychologist and certified group psychotherapist explains to Romper. "These benefits are important because they help shape the foundation of a sense of self."
Family traditions can certainly help your crew stay connected, but they can also bring an emotional balance and consistency that is so critical, too. "Family traditions give family members something to look forward to and something to believe in," Katie Ziskind, LMFT, a holistic marriage and family therapist tells Romper. "Doing something because it was done year after year is a healthy routine." After all, stability is something we all crave, Ziskind points out, and traditions can offer that security of knowing that, come what may, you can always rely upon them as a sign of hope for the future.
But traditions can also take on another tone, particularly after a beloved family member has passed away. "Traditions give hope and happiness, especially after families have lost loved ones and are dealing with loss and grief on a holiday," Ziskind adds. "Grief and loss can become elevated and more intense during the holidays, so traditions help with remembering loved ones in a positive way." That might mean baking a birthday cake with a recipe for Grandma's famous chocolate buttercream, or sitting down to remember a lost loved one on their birthday and having a drink in their honor. Ultimately, family traditions are what keeps family alive even as generations pass over time.
Anytime traditions your family can adopt
Sure, it's fun to celebrate a birthday with cake and tasty treats or make an annual trek to a Christmas tree farm, but you don't have to wait for a big event to roll around to break out some family traditions. "Anytime traditions are great because they're spontaneous for special occasions or events that occur randomly," Michelle Segismundo-Reeves, LMHC, NCC, a psychotherapist says. "They're just as important for communication, for future generations of the family, for the emotional and relational health of the family, and stability." If you're looking to create some new anytime traditions, you can try out the ones below for starters.
Celebrate a new job/promotion/graduation
Start a happiness/gratitude jar
Celebrate a new home
An end-of-the-week lunch or dinner
Have a family talent show
Go out for ice cream every Friday
Watch the Super Bowl as a family (and paint your face in your team's colors)
Weekly game nights
Plan date nights with each child
Take a daily or weekly walk together
Monthly dinner outings
Annual camping trips
Regular movie nights at home
Read bedtime stories
Look at childhood photos together
Holiday traditions your family can do
The holidays can be a super busy time, and that's why, in the middle of all the hustle and bustle, holiday traditions can keep you grounded and remind you of what's most important. "Traditions are about sharing the love you have for one another," says Parker. "The memories that you cherish and pass down to the next generation are experiences you'll cherish forever." Here are some to help you make the most of the holiday season.
Weekend getaway trip
Look at holiday lights
Watch holiday movies
Travel to a certain destination such as Europe on a yearly basis
Eat special foods or desserts
Camp out in front of the Christmas tree
Dance in the New Year
Hide a pickle ornament on the tree and whoever finds it gets an extra present
Make gingerbread houses for Christmas
Carve pumpkins for Halloween
Attend a Hanukkah party or religious service each year
Go trick-or-treating in costume on Halloween night
Wear matching PJs
Go to synagogue or church on a certain holiday to get in touch with spiritual connection
Open gifts
Have family and friends over for the holidays
Volunteer to help others less fortunate
Make a favorite family recipe
Go to a tree farm to cut down a Christmas tree yearly
Tell funny stories about beloved relatives to remember them
Birthday traditions your family can do
Long after the candles have been blown out and the cake has been cut, the memories will remain of how a birthday was spent together as a family. "Family traditions are a great way to document special moments and create lasting memories," Kalley Hartman, LMFT, a licensed marriage and family therapist and clinical director at Ocean Recovery in Newport Beach, CA, tells Romper. "These precious memories will last long after the tradition ends and can be passed down from generation to generation." Try some of these traditions to make birthdays even better.
Do a birthday countdown (especially for younger kids)
Send or craft cards
Give gifts (sometimes the number of presents will be based on their age)
Make a baby picture display
Make a special meal for the birthday person
Wake them up in a fun way
Decorate a birthday door
Do random acts of kindness
Sing "Happy Birthday"
Swirl the person's name on their cake for good luck
Make a birthday present scavenger hunt
The cool thing about family traditions is that they're meant to enhance the experience of being together. You can practice beloved traditions or even adopt some new ones that will live on in your family for generations to come.
Sources interviewed:
Dr. Kimberly Parker, LCSW, Ph.D., a licensed clinical social worker and Ph.D. psychology candidate
Dr. Jackie Darby, Psy.D., CGP, a licensed clinical psychologist and certified group psychotherapist
Katie Ziskind, LMFT, a holistic marriage and family therapist
Michelle Segismundo-Reeves, LMHC, NCC, a psychotherapist
Kalley Hartman, LMFT, a licensed marriage and family therapist and clinical director at Ocean Recovery in Newport Beach, CA