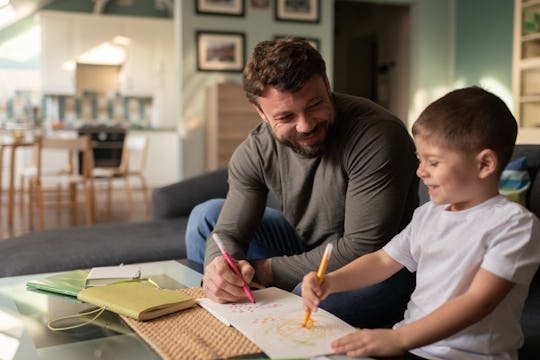 Cavan Images/Cavan/Getty Images
These 21 Father's Day Crafts Will Make Dad Feel Extra Special
Show off your crafty side this Father's Day.
Give the gift of your time and creativity. Unique, personalized, and handmade crafts for Father's Day are some of the most meaningful gifts around. No matter your age or crafting experience, Dads love these handmade treasures, which can't be purchased or ordered anywhere.
Similar to Mother's Day crafts, these cool projects would make great homemade gifts for Father's Day. After all, both kids and parents alike love these types of creations, and they're likely to become keepsakes for years to come. These crafts generally do not require any specialized tools beyond what you can find at your local craft or hardware store. Even better, many of the crafts are suitable for kids to make on their own, while a few others will need a little help from an adult. For the most part, the crafts you choose will depend on your kid's age and abilities. And before anyone asks: it's totally cool for adult children to present their fathers with handmade crafts, too. If any of these strike your fancy, whip up a cool coaster set or watercolor piece for your own father. Read on to find the perfect Father's Day craft for your family, and suddenly your Father's Day gift planning is totally done.
However you spend this holiday, the sweet and sentimental Father's Day crafts will make a perfect gift for any dad.