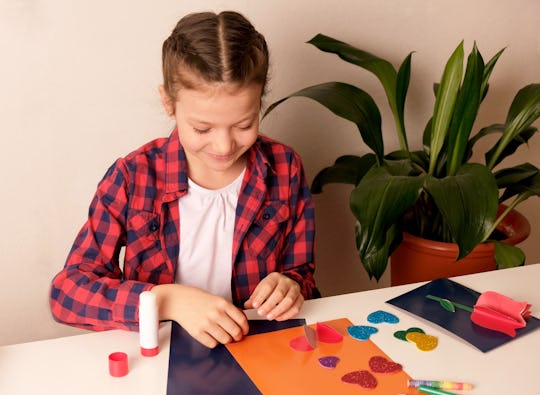 Shutterstock
These Mother's Day Crafts & DIY Projects Make Sweet Gifts
And Mom will actually want to display these.
To me, one of the best parts about your younger kids being in school (other than the break) is when those little handmade pieces of artwork for holidays and special occasions start to come home. I am stoked for Mother's Day coming up for this reason. Handprints, paintings, glue, tissue paper? Bring it on. And the fun doesn't have to stop at school. If you're looking for fun gift ideas for mom (or grandma) from the family, you need a great list of Mother's Day crafts for kids. With everything from paint and paper crafts to DIY personal care items, these super sweet and sentimental gifts will make this Mother's Day one to remember.
Some need a bit of adult supervision (which perhaps you can give while mom gets a break for a doubly thoughtful Mother's Day gift), but a lot of these Mother's Day crafts are pretty simple for kids to do on their own. There are some very clever ideas out there on the internet — just make sure you're well stocked with finger paint, glue, glitter, and of course, cupcake liners. Trust me. And know that no matter how the DIY project or craft turns out, it's the thought that counts. Little kids are always so excited to bring in their homemade card or little trinket, and they'll have a blast celebrating their mom with these Mother's Day craft ideas.
Whether it's as simple as a homemade card or it's an entire DIY collection of mason jar candle holders, mom will appreciate the thought and work that went into any of Mother's Day Crafts. Just make sure she gets some rest on top of the gift, and she'll have a wonderful Mother's Day.
This article was originally published on