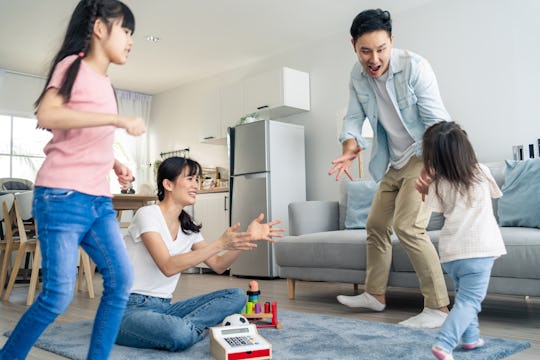 Shutterstock
Stump Dad With These Silly Scavenger Hunt Clues On Father's Day
Watching Dad run around the house will be fun for the entire family.
Father's Day is a time to celebrate your dad or the dad figure in your life. It's about food, love, but most of all, fun. So while you could (and should) give the important dad in your life a card to commemorate the day, you might also want to put together a fun activity (like a scavenger hunt) for Dad to fill his day with laughs and memories. If you're looking to put some fun into Father's Day, then these Father's Day scavenger hunt clues will do just that.
The cool thing about the Father's Day-themed scavenger hunt is that you can really customize it for your cool dad. You can make it as short (or as long) as you want, with clue upon clue leading your dad to a different place each time. Ultimately, the scavenger hunt could end with a card and a present, or breakfast in bed surrounded by his babies. Or it could just be fun to watch Dad (and the kids) run around the house trying to find out where the next clue might lead.
And that's really the point of a Father's Day scavenger hunt. It's yet another bonding moment for the family, sure to evoke a lot of laughter and silliness as Dad chases after these clues. Most of all, the effort involved in the hunt will show Dad just how darling and dear he is to his family.
Father's Day scavenger hunt clues
Dad, sometimes we feel like you have superpowers! Look where you go to take a shower.
A dad like you is so very rare. No other dads can compare. Head now to your favorite chair.
With you as our dad, we cannot fail. Now go to where they deliver the mail.
You're always telling us to try our best. Look now where you go to get dressed.
Dad you have some serious skills. Now look where you make the best food on the grill.
You are the best dad in the world; you really are. Go look in the back of the car.
Daddy, you are so smart, funny, and very cool. Please go where you keep your tools.
You don't wear a cape, but you're my hero. Go to where the temperature falls to zero.
With you as our dad, life is never a bore. Head to where you've been known to snore.
On Father's Day, there's a whole lotta lovin'. Now go to the microwave oven.
Congrats to our dad for being the best. Now go to the place where your head does rest.
Daddy, thanks for all that you do. So head to where the coffee brews.
What a day full of family and fun. Your next clue is waiting where the dishes get done.
Today we can have nice treats to eat. Your next clue waits where visitors you might greet.
We celebrate another Father's Day as we all get older. The clue you seek is in the pocket of the jacket you wear when it's colder.
You are so strong and brave. Your next clue is where you go to shave.
One day I hope to be just like you. Go outside to find your next clue.
I might not tell you often, but I think you're great. Find your next clue on your dinner plate.
Happy Father's Day. It's time to rise. Follow these clues to discover your prize.
Whether you choose to print or handwrite these Father's Day scavenger hunt clues to the main prize, one thing is for sure: You're all going to make some unbelievable memories together that Dad will remember for a lifetime.