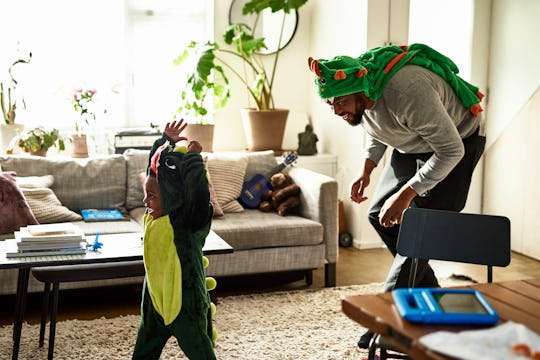 10'000 Hours/DigitalVision/Getty Images
28 Fun Games To Make A Father's Day Tradition
Spoiler alert: He won't let the kids win this time. It's his day.
When Father's Day comes around, how do you spend this special time? Some dads are generally easy to please if they have full bellies and a baseball game, but aside from loading him with gifts and breakfast in bed, there's another way to celebrate the man of the house: have some real family fun. Put together a few Father's Day games and activities to add an interesting spin to this holiday, making it memorable and possibly creating a new tradition for your family.
Lots of dads thrive on a little bit of competition. But the difference is, this time, instead of being the kind of dad who feigns loss, they won't feel bad about beating the kids. And to add a little more sauce to your fun rivalry, have a prize ready for the one who wins the most games.
With this list of Father's Day games, you can show dad a good time at the kitchen table, in the backyard, or even on the basketball court, so don't feel stuck. You can switch it up. While some of these activities may require a bit of prep time, they won't disappoint. And chances are that all of those fun things you usually do on Father's Day — fishing, a park picnic, hitting up a museum — don't compare to a silly game with his favorite people.
Filling dad's special day with fun, giggles, and lots of competition on Father's Day will leave a trail of memories for your family, and he will relish every opportunity to show off for the people he loves the most. So it's OK to give in and let him win a time or two. Consider it par for the course.
This article was originally published on