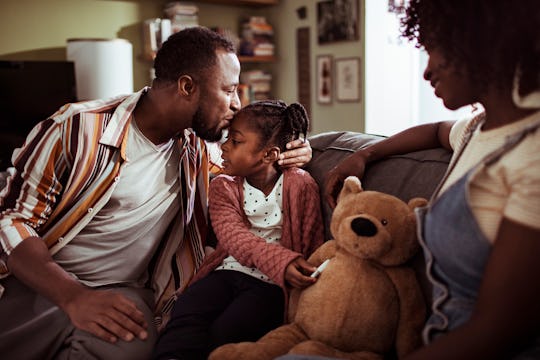 Geber86/E+/Getty Images
14 Things The Best Partners Do On Father's Day That He'll Genuinely Appreciate
With all the tear-jerking commercials and ads telling you to send your mom flowers, Mother's Day is hard to forget. The same can't always be said for Father's Day, unfortunately, which is why there's so much last-minute scrambling for cheesy mugs and ties. But what does the father of your children really want this year? Oftentimes, the best things partners do for Father's Day have nothing to do with presents at all.
Just like every day should ideally be Mother's Day, every day should celebrate Dad and everything that he does. But as we all know, life gets in the way. "Father's Day is the one day a year when dads everywhere are acknowledged for their unique contributions and importance in the lives of their children," psychotherapist and relationship coach Toni Coleman, LCSW, tells Romper. "Finding ways to say we value and love you for who you are and what you do will strengthen and reinforce the bond between Dad and kids and the spouses and partners who co-parent with them."
If you're trying to come up with the perfect present for your partner, you may find that it's not something that you buy in a store or even online. Instead, it may be the investment of time, energy, and even gratitude that your sweetie secretly wants. And that can create a Father's Day full of loving memories that everyone can enjoy.