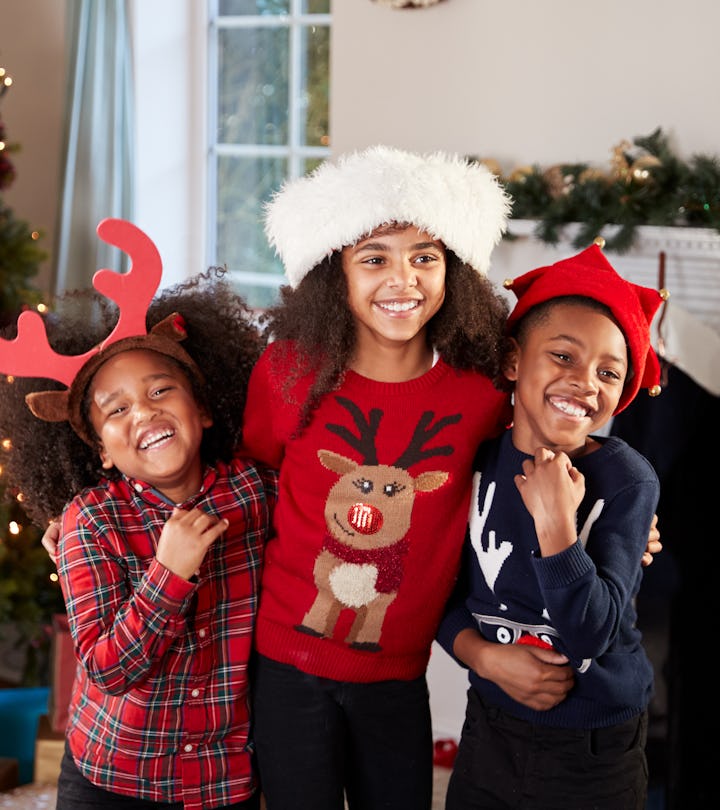 Shutterstock
38 Christmas Instagram Captions To Make Your Feed All Merry & Bright
It's one way to spread some virtual cheer this year.
As 2021 comes to a close, people everywhere are ready to spread holiday cheer. Because virtual greetings are always fun, consider sharing Christmas Instagram captions that will make you feel merry and festive. Whether your feelings about the holidays are sweet, sentimental, or humorous, there's a quip or quote ready to express your feelings. Even the Grinch's point of view gets a little recognition.
For many families, the holidays are all about making memories to last a lifetime and keeping up traditions as best you can, even while the world is constantly changing. It's a special time to spend with your children, whether you're baking batch after batch of cookies, watching all the Christmas movies on Netflix, or finally ripping into those sweet presents on December 25. For others, though, this holiday in particular is more about "eating junk and watching rubbish" like Kevin McCallister from Home Alone. (Honestly, this has been my vibe for quite a while now.) It's an unusual holiday season by all accounts — for the second year in a row, we have a pandemic to contend with while making holiday travel plans — but there's still a lot of joy and magic to be had this year. Whatever your take, here are some Christmas captions that capture the spirit and occasional chaos of the holiday season for all those in your feed.
Funny Captions
Silent night? If only.
Blame it on the elves.
Dear Santa: How do you define nice, really?
Take a selfie with the elfie.
Spruced up and ready to party!
Happy Hallmark-Christmas-movie-marathon season.
All is calm... maybe after the presents are unwrapped!
I love lounging around in pajamas all Christmas morning — and most every other day of the year, to be honest.
"Blast this Christmas music. It's joyful and triumphant." —The Grinch
I'm only a morning person on December 25th.
But what is a humbug, exactly?
At least I got more than a robe this year.
Christmas: when kids get all the presents and parents get to go into debt.
It's the most wonderful time of the year until someone has to clean up.
Now that Christmas is here, the kids can go back to being naughty.
"The best way to spread Christmas cheer is to sing loud for all to hear." — Elf
Sentimental Captions
It's finally hot chocolate and marshmallow weather.
"Like snowflakes, my Christmas memories gather and dance — each beautiful, unique, and too soon gone." — Deborah Whipp
Christmas memories are some of the sweetest of all.
"Do you want to build a snowman?" — Frozen
Our family runs on hot chocolate, love, and Christmas music this time of year.
My favorite color is Christmas lights.
"All I want for Christmas is you." — Mariah Carey
Creating Christmas magic for your kids brings that child-like wonder back to adults.
Is anyone more excited than a child on Christmas Eve?
"Christmas isn't a season. It's a feeling." — Edna Ferber
Thoughtful Quotes For Captions
"Probably the reason we all go so haywire at Christmas time with the endless unrestrained and often silly buying of gifts is that we don't quite know how to put our love into words." — Harlan Miller
"I will honor Christmas in my heart, and try to keep it all the year." — Charles Dickens
"At Christmas, all roads lead home." — Marjorie Holmes
"One of the most glorious messes in the world is the mess created in the living room on Christmas Day. Don't clean it up too quickly." — Andy Rooney
"Christmas is like candy; it slowly melts in your mouth sweetening every taste bud, making you wish it could last forever."— Richelle E. Goodrich
Christmas Tree Captions
I have to say, these decorations are tree-mendous.
Time to spruce things up.
"Rockin' around the Christmas tree." — Brenda Lee, "Rockin' Around the Christmas Tree"
The Christmas tree isn't the only thing getting lit this season.
Smash the pa-tree-archy this Christmas!
"O Christmas Tree, O Christmas Tree!"
We decided to branch out with our Christmas tree decorations this year.
Whether you're on the hunt for Christmas tree Instagram captions, classic December Instagram captions, or just something to accompany your family's matching PJ picture, there are a slew of options that will make your Insta game holiday ready. And with a Chsitmas 'gram this strong, even the Grinch would hype you up in the comments section.
This article was originally published on