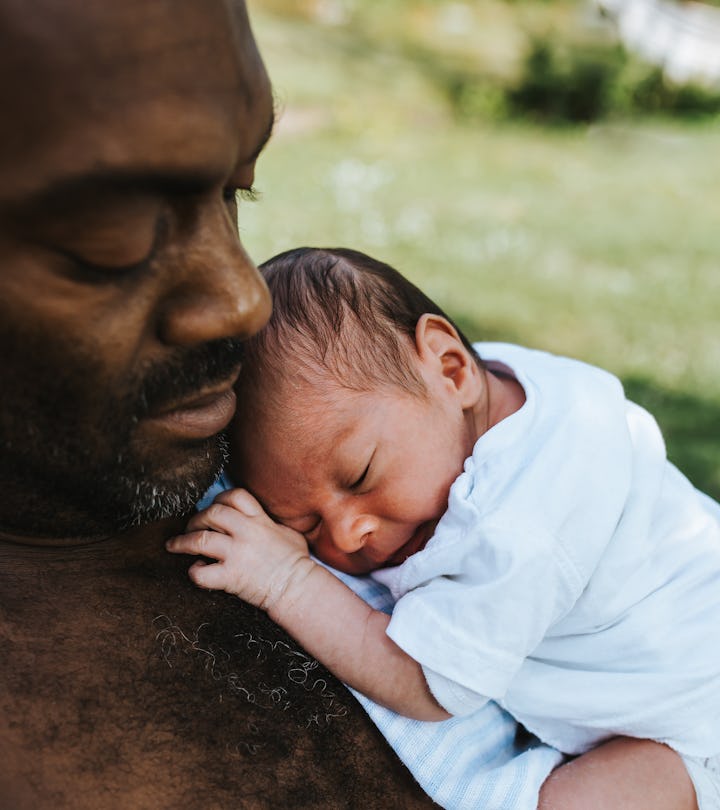 Shutterstock
40 Father's Day Insta Captions For First-Time Dads
Because that first Father's Day has magic all its own.
It's an exciting time in a person's life when Father's Day officially becomes a day when they are the one being celebrated (and hopefully get to open up a cool Father's Day gift with their name on it). Whether you're an expectant father or the father of a new arrival, or looking to celebrate someone who is, a first Father's Day Instagram caption can be a great way to recognize how momentous this occasion is.
Whether the new dad likes jokey quotes about the rigors of fatherhood or likes quotes that celebrate the sweeter side of parenthood and are little more sappy and sincere, one of these quotes might make a perfect caption — particularly when paired with a picture of dad and the baby bump or the new baby (maybe in matching shirts?) You could also write one of these quotes in a card, or just read them aloud to the new father and see how he reacts. New parenthood is so all-encompassing that it can be hard to find the right words to talk about it. One of these quotes might just express the feelings that are hard to fully express unless you're living it.
First Father's Day Instagram captions for expectant fathers
Whether a new father is becoming a parent by adoption or by pregnancy, the first Father's Day when he doesn't yet have a kid in his house — but is about to — is worth celebrating. One of these Father's Day captions on Instagram (or his social media platform of choice) will let everyone know that, even if you can't see it, big changes are afoot.
"The nature of impending fatherhood is that you are doing something that you're unqualified to do, and then you become qualified while doing it." — John Green
"The guys who fear becoming fathers don't understand that fathering is not something perfect men do, but something that perfects the men." — Frank Pittman
"Pregnancy brings a newer glow on the faces of everyone in the family." — Anonymous
"Ten toes, ten fingers, two eyes, two lips, and one nose. I can't wait to meet each part of you! As your father, it is your heart I promise to cherish most." — Anonymous
"Life is either a great adventure or nothing at all." — Helen Keller
"I have no expectations about fatherhood, really, but it's definitely a journey I'm glad to be taking." — Christopher Meloni
"If I am thinking correctly, a new baby is probably, undoubtedly the grandest gift that could ever be." — Winnie the Pooh
Sweet Father's Day Instagram captions for a new dad
Our culture famously doesn't encourage men to show emotion or to be sentimental about fatherhood or their kids. But lots of guys realize that there's nothing unmanly about sharing your love or in saying how you feel. And having a new baby in the home is definitely an emotional experience. These quotes, some from fathers and some from people who just have something special to say about fatherhood, are all just really sweet and might just bring a tear to the eye of anyone who reads them, whether they're a father themselves or just love to celebrate the wonderful father figures in their life.
Celebrating this amazing man on his first Father's Day. You're already an incredible dad!
A toast to the man who made me a mom and has been rocking fatherhood from day one. Happy first Father's Day!
No one could have prepared me for the love and joy you've brought into our lives. Happy first Father's Day, my love!
Our little one is so lucky to have you as their first superhero. Happy Father's Day to the best dad in the world!
To a man who has embraced the challenges and rewards of fatherhood with open arms, happy first Father's Day!
Our little family is complete because of you. Wishing a happy first Father's Day to the most amazing dad!
Watching you with our child has filled my heart with endless happiness. Happy first Father's Day to the best dad.
From changing diapers to late-night cuddles, you're a natural. Happy first Father's Day.
Today we celebrate the man who has stepped into the greatest role of all — a loving and devoted father. Happy first Father's Day!
To the man who has already taught our child the meaning of love and kindness, happy First Father's Day! You're doing an incredible job!
"Any man can be a father, but it takes someone special to be a dad." — Anne Geddes.
"Having a kid is like falling in love for the first time when you're 12, but every day." — Mike Myers
"Son, brother, father, lover, friend. There is room in the heart for all the affections, as there is room in heaven for all the stars." — Victor Hugo
"Never is a man more of a man than when he is the father of a newborn." — Matthew McConaughey
"A baby fills a place in your heart you didn't know was empty." — Unknown
"Of all the titles I've been privileged to have, Dad has always been the best." — Ken Norton
"My father gave me the greatest gift anyone could give another person. He believed in me." — Jim Valvano
"Fatherhood is the greatest thing that could ever happen. You can't explain it until it happens, it's like telling somebody what water feels like before they've ever swam in it." — Michael Bublé
"When you meet your kids you realize that they deserve great parents. And then you have your marching orders and you have to try and become the person that they deserve… My life [has] changed. And thank God it did." — Ryan Gosling
"'I thought I would be more inspired to have all these new feelings to talk about, but I really just want to hang out with my daughter." — Jay-Z
"'Father is the noblest title a man can be given. It is more than a biological role. It signifies a patriarch, a leader, an exemplar, a confidant, a teacher, a hero, a friend." — Robert L. Backman
"It's the most profound gift and the most daunting challenge." — Matt Bomer
"A father is a man who expects his children to be as good as he meant to be." — Frank A. Clark
Funny Father's Day Instagram captions for first-time dads
While fatherhood is super sweet, it's also objectively pretty funny — or maybe it just seems that way when you're punchy from sleep deprivation. Comedians have always found lots of great material from fatherhood, and these quotes might just fit the bill for the dad who likes to joke around — but also has a softer side.
"Being a dad isn't just about eating a huge bag of gummy bears as your wife gives birth. It means being comfortable with the word 'hero.'" — Ryan Reynolds
"When your wife is pregnant and you're expecting, everyone is like, 'It's incredible. Get ready, it's magic. It's the most life-changing experience you'll ever have. Brace yourself for heaven.' And then the second the baby comes everyone is like, 'Welcome to hell.'" — Andy Samberg
"Babies are always more trouble than you thought — and more wonderful." — Charles Osgood
"By the time a man realizes that maybe his father was right, he usually has a son who thinks he's wrong." — Charles Wadsworth
"A father carries pictures where his money used to be." — Steve Martin
"Being a great father is like shaving. No matter how good you shaved today, you have to do it again tomorrow." — Reed Markham
"Remember: What dad really wants is a nap. Really." — Dave Barry
"Having children is like living in a frat house. Nobody sleeps, everything's broken, and there's a lot of throwing up." — Ray Romano
"I have found the very best way to advise your children is to find out what they want to do and advise them to do it." — Harry S. Truman
"You can learn many things from children. How much patience you have, for instance." —Franklin P. Jones
Whether or not the new father in your life expects to be celebrated, he will surely appreciate one of these quotes, particularly if it's paired with a nice shot of him looking like the cool dad he is. And if he gets celebrated with one of these quotes and gets a nap on father's day? That would truly be a day that he'll think fondly of for the rest of his parenting journey.
This article was originally published on