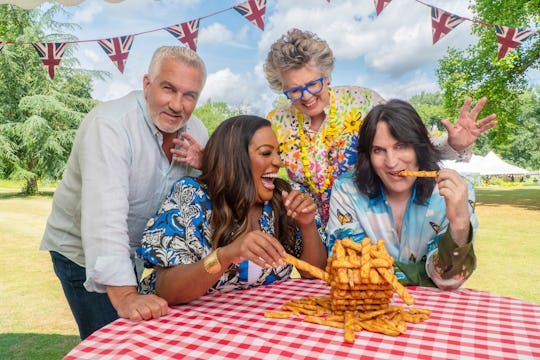 Mark Bourdillon/Netflix
Great British Bake Off Halloween Costume Ideas
From Noel Fielding to dressing as literal Bread Week, there's something for everyone here.
We may receive a portion of sales if you purchase a product through a link in this article.
Ever tried to make a custard with Paul Hollywood's watchful gaze judging you from across the room? Me neither (yet), but that kind of scenario is so terrifying, I think it's time to consider some Great British Bake Off Halloween costumes. The show is known for being a calming, gentle, happy show, but the fear that strikes the heart of every contestant when they get a technical challenge recipe or when they realize their meringues never set is pretty rough. Another nice little perk? Most of these Great British Bake Off Halloween costumes are extra cozy and you can probably throw them together with things in your closet.
These costume ideas are also great for a group. If there are a bunch of Star Bakers in your trick-or-treat crew, make a few of them into hosts or judges, or turn them into actual show-stoppers like slices of cake or pie. You can really have a lot of fun with these Great British Baking Show Halloween costumes, and these below ideas are really a guide. Dress as any host you'd like! Go old school and choose Mary Berry! Throw on a sweatshirt and write out half of a recipe and go as a technical challenge! Whatever you choose, people are sure to guess what you are. Just throw in a few key phrases like "oven opening" and "that's a nice bake."
Prue Leith
Prue Leith is not only one of the judges of Great British Bake Off, but she's also an absolute style icon. Glasses matching with earrings, lots of bright colors, bold patterns — Prue just goes for it, and with her short gray hair, it's easy to pull this costume together and really have people know exactly who you are.
Paul Hollywood
The man known for his handshake and his steely blue-eyed gaze absolutely deserves to be a Halloween costume. This one couldn't be easier to pull together, but you're really going to have to look at everyone with the most serious eyes all Halloween long.
Noel Fielding
Noel Fielding has been one of the beloved Great British Bake Off hosts for quite a while and like Prue, Fielding's wardrobe is spectacular. It's really the hair that sells this costume though, and you can even grab a pair of scissors and sort of feather the wig out a bit to be a little messier. Don't forget to slide on a bunch of rings.
Slice Of Cake
Give yourself a super easy (and delicious-looking) costume with this super simple cake costume. What do you think Prue and Paul would say about those layers?
Star Baker
Need a super easy Halloween costume? Grab you an apron, your favorite baking clothes, and wham bam — you're a Great British Baking Show contestant. Add a bouquet of flowers and a cake platter and you can be the Star Baker that wins it all.
Bread Week
Halloween is for scary moments, and nothing strikes fear in the heart of contestants like Bread Week. Cover yourself in different miniature versions of bread, or go as one entire loaf. Don't forget to say the word "proof" a lot.
The Tent & Bunting
Is there anything more iconic than the Great British Bake Off tent? It's the easiest costume and you'll be noticed immediately. Just grab a bunch of canvas fabric, cut a hole in the top for your head to go through, and wrap a bunch of bunting around yourself. You're The Tent!
Great British Bake Off may not have a lot of scary moments, but nothing is more terrifying than realizing your oven wasn't on during a technical challenge. That's what makes Great British Bake Off Halloween costumes such a must. Ready, set, bake!