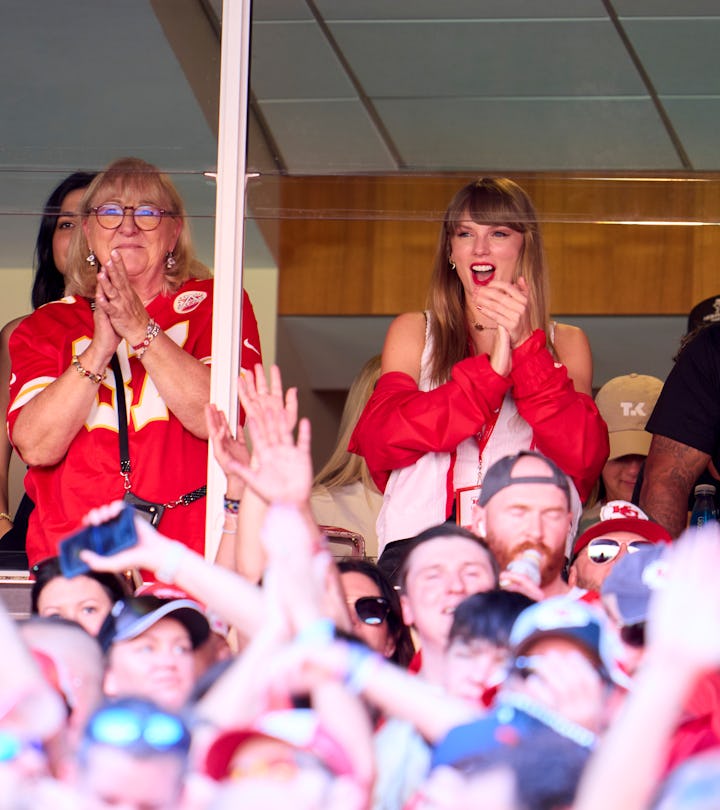 Cooper Neill/Getty Images Sport/Getty Images
Last Minute Halloween Costumes Inspired By Pop Culture Moments Of 2023
We may receive a portion of sales if you purchase a product through a link in this article.
Remember when everyone was discussing their 2023 "bingo cards" around New Year's Eve? Well, since then a ton of unexpected stuff has happened — like Miley Cyrus exposing her daily life during her childhood fame, #Scandoval, and Joe Jonas filing for divorce from Sophie Turner without even telling her. Plus, all of the Taylor Swift-related moments, between her Eras tour, her unanticipated breakup and perhaps most surprisingly, putting Travis Kelce "on the map" after attending a highly publicized football game. Beyoncé drew in some special attention as well when she and her daughter, Blue Ivy, performed together during her Renaissance tour.
All of these pop culture moments have some serious potential to become amazing Halloween costumes. You'd be surprised at how easy it is to make regular clothes become a costume and a reference to something everyone already knows about. If you really nail one of these costumes, you can post a picture of you in costume side-by-side with pictures from the actual moment and show off your costume skills and your awareness of what's relevant right now.
Carmen "Carmy" Berzatto
If you've been saying "Yes chef!" repeatedly since watching the second season of The Bear, this is the easy AF costume for you. Jeremy Allen White's character Carmy wears this blue apron along with a white t-shirt and jeans. Carry a kitchen tool of your choice to make it really come alive.
Taylor Swift and Sophie Turner Out on the Town
Taylor Swift and Sophie Turner have been spending a lot of time together in New York City after the news broke that Turner their now-mutual ex, Joe Jonas, filed for divorce against Turner. In the above picture, they were on their way to grab dinner together and sparked conversation about the two exes of Jonas' hanging out. Plus, everyone knows how much Sophie loved Taylor's song Mr. Perfectly Fine, which is famously about Joe. You can recreate this look from a night out with your best gal pal for Halloween: Swift is wearing a red-orange dress, a long denim trench coat and knee high snake skin boots. Turner has a black shoulder bag and is wearing a pair of grey trousers, light blue Jordans, and a top similar to this one. Add some necklaces and voila — you and your best friend are basically celebrities.
A Nepo Baby
In case you missed it, a "nepo baby" is someone who's famous as a result of nepotism. Think Emma Roberts, Gwyneth Paltrow, Kaia Gerber. But the easiest (and probably most under-the-radar) nepo baby to replicate in the form of a Halloween costume is Ben Platt, the star of "Dear Evan Hansen" in the original Broadway production and the movie, which his dad's production company owns. This costume is easy for anyone and honestly, kind of comfortable.
M3GAN
M3GAN, the main character of the movie with the same name, is creepy AF. M3GAN is an artificially intelligent doll with a human companion who she becomes obsessed with. In 2023, there's truly nothing more creepy than AI, making the odd-looking doll a perfect costume for Halloween.
Miley Cyrus in the "Flowers" Music Video
Remember back in March when "Flowers" was stuck in your head for the whole month? Relive that pop culture moment by recreating her look from the music video. The actual dress she wore is a vintage Yves Saint Laurent dress that looks gold or silver depending on the lighting. There really is no dupe for it in gold, but there's a great option in silver. Add her sunglasses and a bouquet of flowers and you're ready to take yourself dancing and hold your own hand.
#Balletcore
#Balletcore is the return of the ballerina look — the bodysuits that pair so well with the wider leg jeans that are in style, ballet flats, delicate looking makeup. A #Balletcore Halloween costume is basically just a ballerina, and inspiration for this can be taken from Nina Sayer (Natalie Portman) in Black Swan. If you've ever gone to dance classes, you might have some of these pieces already, but if you don't there are some cheap options. You can wear this bodysuit (which comes in multiple colors) with classic ballet pink tights, but if you think you'll get cold, you can wear black leggings because the legwarmers and this light pink wrap skirt will fit over them. You'll totally pull this look off if you wear your hair in a bun along with some dainty earrings.
Julia Fox's apartment tour
Who knew Julia Fox was living such a humble life? In a video posted to her TikTok in January 2023, the model took fans on a tour around her average-sized place that she lives in with her son, Valentino. Her dry erase board with his daycare schedule proves that celebrities are just like us! For this costume, you'll need to (temporarily) bleach your eyebrows (or use white mascara on them), put a big white t-shirt on and then consider stapling old toys and laundry to the t-shirt itself.
The N'Sync Reunion at the VMAs
The N'Sync reunion at the Video Music Awards this year was literally a historical moment. 20 years prior, they had won the Best Pop Award for "Bye, Bye, Bye." In 2023, they presented the same award to Taylor Swift for "Anti-Hero." The whole group donned blazers in various shades of blue and grey and even brought friendship bracelets for Swift. In a group of 2 to 5, you can all choose one of the colored blazers (which can be repurposed for work) with whatever pants you want. If you still have your friendship bracelets from the Eras tour or feel like making some, throw those on too!
Tom Sandoval
The MOST extra Halloween costume ever? Maybe not, but it does look a lot like what Sandoval is wearing in the profile picture of his band's Instagram account, @tomsandovalandthemostextras. #Scandoval was more than just a moment in 2023 pop culture — it felt more like a month — and this gender-neutral costume option is perfect to honor that. Have your bestie dress up as Ariana Madix in the best revenge dress they can find.
Brayden from The Bachelorette
Speaking of toxic male reality television stars... Brayden from Charity's season of The Bachelorette, which aired this summer, wore some really interesting outfits. His scarves and earrings were an iconic part of the show.
Beyoncé During Her Renaissance Tour
Finding the exact dupes of Beyoncé's outfits from her tour would be super difficult, but one way you can achieve a Beyoncé Halloween costume this year would be to dress head to toe in silver. In addition to copying the many silver bodysuits, skirts, and shoes, don't forget a lavish hat and a large pair of sunglasses.
Beyoncé and Blue Ivy during the Renaissance tour
The way Beyoncé looked at Blue Ivy while she performed as a backup dancer during the tour had us all tearing up. Viewers of this heartwarming moment were reminded that Beyoncé isn't just one of the most successful pop stars of all time — she's also a mother, just like you. You can recreate this look from the tour with your child quite easily — all you need is head-to-toe camouflage outfits. These camo pants will go great with the jacket below and you can size down if you need to.
The Roman Empire
It's on everybody's minds... at least, now it is. TikTok blew up with videos compiled of screenshots of text chains where women would ask the men in their lives how often they think about the Roman Empire. Some (questionably toxic) men said they actually think about it a decent amount. There is a really good opportunity here to put together a funny or sexy Roman-esque costume. For a funny option, think of Octavius from Night at the Museum. There's plenty of inspiration for a sexy Roman Empire costume, but think lots of white and gold along with leafy headpieces.
Mama Kelce
Donna Kelce probably wasn't expecting to become a pop culture icon overnight, but twice this year she was the subject of a bunch of headlines: first in February, when her two sons' football teams played on opposing teams during the Super Bowl, and again in September when she was spotted watching her son Travis' game alongside Taylor Swift. Mama Kelce can usually be spotted in an Eagles or Chiefs jersey, but if you're a diy-pro, you can fashion one yourself. If you have a preferred team (or Kelce brother), you can grab either of their jerseys, throw on a crossbody bag and rock her signature hair and glasses, and you'll look just like the supportive football mom she is.
Taylor (NFL Version)
Another fun pop culture moment was, of course, Swift at the Chiefs games. Her presence at the game in Kansas City, MO caused sales of Kelce's jersey to spike 400 percent in one day and some fans went to the Metlife Stadium game just to see if they could spot her. Though there aren't any photos of her wearing Kelce's jersey, you can still make a Swift-inspired costume with one. Just wear the jersey with some friendship bracelets (like the one Travis made for her!), red lipstick and a "Taylor's version" hat.
The Cockroach at the Met Gala
If there was any doubt that New York City has a roach problem, there isn't now. A cockroach got into the 2023 Met Gala back in May and instantly became a meme. Hopefully Anna Wintour's assistant didn't have to run to the nearest drugstore to grab some Raid while all of this went down. You can reference this unexpected pop culture moment by combining a roach costume with a cockroach costume and a crown (to make it fancy, obviously) velcro'd on top.
Timothée Chalamet and Kylie Jenner
This costume is so easy because this year's most unlikely pair are pretty much always wearing black, like they did at the U.S. Open this year. For Kylie, you can add gold hoops and sunglasses. Timothée's look, other than the black, is just a cross necklace and black baseball cap with baggy jeans.
The Beckhams' Matching Outfits
David Beckham's Netflix docuseries about the professional footballer's life was a cinematic throwback for every millennial this year, especially whenever they talked about his relationship with his uber famous wife, Victoria. A recent look that they posted on Instagram is your solution to an easy all-denim Halloween costume that isn't the Justin and Britney costume that everyone else is wearing, but there are plenty of aggressively coordinated outfits they've worn throughout the years that you and your boo can take inspiration from: head-to-toe violet purple formalwear, in the purest satin white fabrics, or an all-leather ensemble.
Jason Kelce when his wife Kylie was in labor
Jason Kelce and his wife Kylie, who are getting more attention online recently since Jason's brother Travis is supposedly dating Taylor Swift, went viral on TikTok because of a video posted in March of Jason relaxing while Kylie was in labor. Kylie documented her husband eating a sandwich, napping, and using a portable fan while she had a baby. Sweats, a little fan and a sausage and cheese sandwich is all you need for this costume.
Barbie or Oppenheimer — or both
There are tons of Barbie and Oppenheimer costume ideas you can explore (just repurpose whatever you wore to the theater to watch either of these films) or mash the two themes together. Either way, pink, camel, and black are the colors to focus on if you're going for a Barbenheimer look. For example, a petal pink dress with a suit jacket or trenchcoat paired with a fedora and gives off the right vibe that everyone was trying to encapsulate this summer in the movie theater.
Rihanna at the Superbowl
Rihanna shocked fans everywhere when she got onstage at the Super Bowl to perform the halftime show and announced she was pregnant with baby #2. She was wearing an all-red outfit while she sang some of the most popular party songs of her career (still mad she didn't peform This is What You Came For, though) and she said being a mom was a big part of what got her there that night.
Taylor Swift Hiding in a Popcorn Machine
In case you didn't see it, Swift might have been hiding in a popcorn machine on her way out of Arrowhead Stadium after the first Chiefs game she attended. No pop culture reference is too difficult to turn into a costume — even this one. A popcorn-shaped one piece with a blonde wig will get the message across and be a really original costume.
Whatever your favorite pop culture moment was this year, there's a way to make a costume out of it — especially when it includes 2023's favorite women: Barbie, Taylor Swift, and Beyoncé. Any of them will surely make your Halloween as fun and iconic as they were.