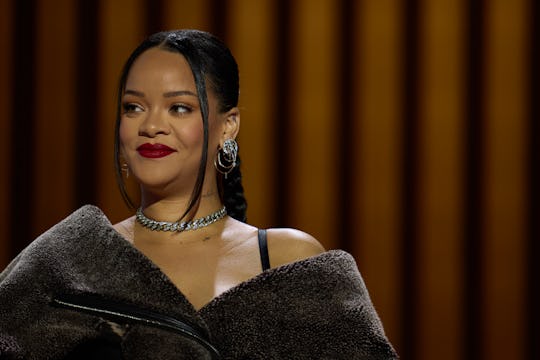 Cooper Neill/Getty Images Sport/Getty Images
Rihanna Says Becoming A Mom Inspired Her To Perform At The Super Bowl Halftime Show
"When you become a mom, there's something that just happens when you feel like you can take on the world, you can do anything."
As Rihanna prepares to leave us all in awe when she performs at the Super Bowl LVII halftime show, she's opened up about her decision to take on the coveted gig. A decision she made when she was three months postpartum and thought she might regret down the line. But the Barbados native, who gave birth to her first child, a sweet baby boy with A$AP Rocky, in May of last year, has shared how motherhood inspired her to go big for her first live performance in seven years.
"It feels like it could have only been now," Rihanna said during an interview with Apple Music in Arizona ahead of Sunday's game between the Philadelphia Eagles and Kansas City Chiefs. "When I first got the call to do it again this year I was like, 'You sure?' I'm three months postpartum, like should I be making major decisions like this right now? Like I might regret this."
Back in 2019, Rihanna had been asked to perform at Super Bowl halftime show, but was one of many celebrities who boycotted the event to stand in solidarity with former NFL quarterback Colin Kaepernick's protests against police brutality and social injustices.
Now, several years later, Rihanna said her highly anticipated performance on Sunday is more than just her return to the stage; it's about representation. And it's a gig she feels especially prepared for now that she's a mom who feels like she can "take on the world."
"When you become a mom, there's something that just happens when you feel like you can take on the world, you can do anything," the Savage X Fenty founder said in the same interview. "The Super Bowl is one of the biggest stages in the world, so as scary as that was — because I haven't been on stage in seven years — there's something exhilarating about the challenge of it all and it's important for me to do this this year. It's important for representation, it's important for my son to see that."
While Rihanna recently released a new song she co-wrote for Black Panther: Wakanda Forever called "Lift Me Up," she has not performed at a concert since her 2016 Anti World Tour. But she's been plenty busy since then — managing her successful lingerie and beauty companies, acting in movies like Ocean's 8, and of course being a mom to her now 8-month-old son. So what can we expect from the icon herself on Sunday? As she put it, a "celebration" of her career's work.
"It's a lot of preparation, a lot of moving parts," Rihanna told Apple Music of her upcoming 13-minute live performance. "It's going to be a celebration of my catalogue in the best way we could have put it together."