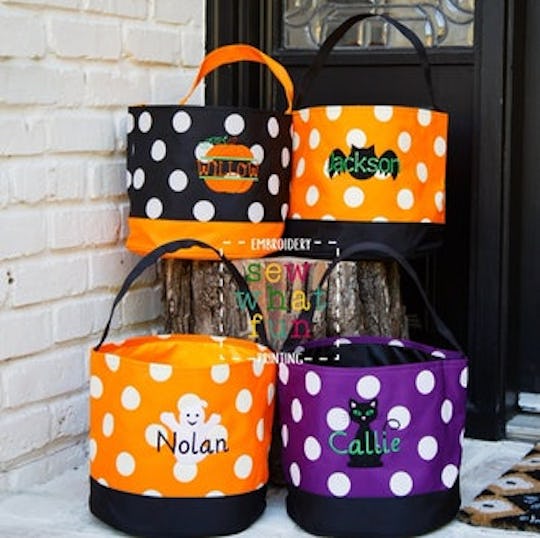 Etsy
These Halloween Baskets For Kids Will Hold All The Candy You Can Handle
Pumpkin buckets are just the beginning.
Much thought and preparation has been put into creating the cutest costume for your kiddo. But you'll need to accessorize their outfit, after all, and that can come in the form of a bootastic basket to collect all that candy. Thing is, you don't have to stick with one type of container; there are so many to choose from. So if you're looking to add some creepiness to your little vampire's costume, you'll want to check out these Halloween baskets for kids.
What type of basket you ultimately end up choosing will not just depend on the aesthetics of the costume, but your child, too. The good thing is that Halloween baskets for kids have come a long way. For example, you might be trick-or-treating in a neighborhood that's known for giving out those full-size candy bars, and that means you'll need a bigger bag to haul all that candy home in. Or you might want a Halloween basket that you can reuse each year, because who has time to keep buying a new bag? And if you have a toddler who has a tendency to trot off, you're going to need a basket that glows in the dark so you can keep track of them.
From plush to personalized, reusable to disposable, these Halloween baskets for kids are functional, fun, and definitely frightful.
We only include products that have been independently selected by Romper's editorial team. However, we may receive a portion of sales if you purchase a product through a link in this article.
Your child's Halloween basket no longer has to be an afterthought, thanks to these fun baskets that celebrate the season. You can even try to match them to your kiddo's costume, which just might get them the biggest candy haul ever.