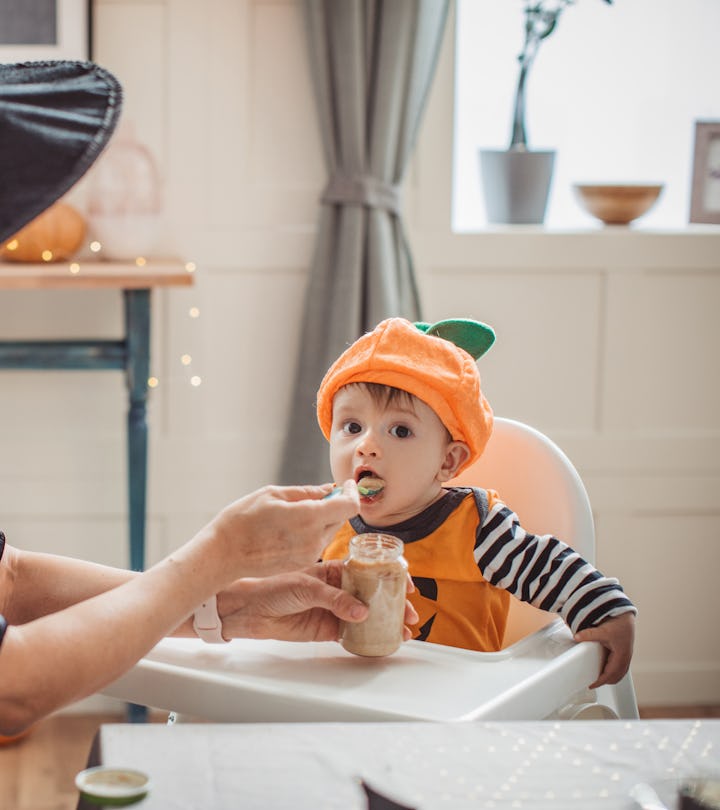 svetikd/E+/Getty Images
Celebrate Spooky Season With These Baby-Friendly Halloween Treats
There are definite pros and cons to celebrating Halloween with a baby. For example, you have complete control over their costume (hello, squishy avocado), but you also have to push a stroller or carry them when you're trick-or-treating. Figuring out age-appropriate Halloween treats for babies can also be a struggle. Should you let them nibble on candy? Can they have a sip of your delicious witch's brew punch? Honestly, it can get pretty confusing if you don't plan ahead.
Your baby may not be developmentally ready to eat candy, but that doesn't mean they can't enjoy something sweet and fun on Halloween — you just have to think outside of the box a bit. Infant Halloween treats may not actually look like the sticky, sugar-filled concoctions your older kids relish this time of year. In reality, pretty much anything that's outside their normal menu of pureed fruits and veggies and themed for Halloween totally counts.
Things like pumpkin-shaped yogurt melts, fall smoothies, and bat-shaped pancakes are all exciting, baby-friendly options to try. Don't let the healthy stuff derail your excitement, though — there are also some decidedly sweet (but safe) Halloween treats for babies you can serve as well. Read on for even more inspiration.
We only include products that have been independently selected by Romper's editorial team. However, we may receive a portion of sales if you purchase a product through a link in this article.
When it comes to Halloween treats for babies, mostly what you need is a bit of creativity. And with all of these great ideas in mind, you'll have no problem throwing together some majorly spooky and fun snacks this October.
This article was originally published on