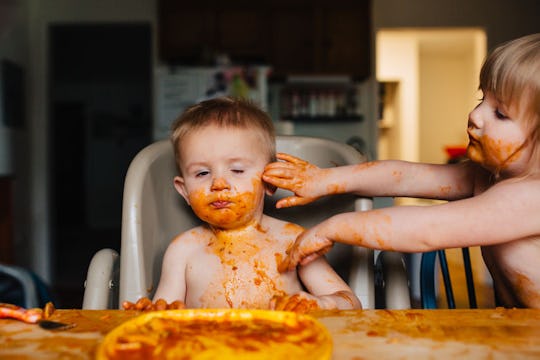 Jessica Byrum/Stocksy
You Need These 18 Hilarious Instagram Captions For Those Naughty Kid Moments
Because every kid has those moments.
Scroll through social media, and you'll probably see tons of pictures from your friends with kids showcasing fun family outings, sweet candid shots, and little moments capturing the joys of being a parent. Those are all lovely, of course. But personally, I love to see pictures of real life — the ones where you're a mess, your house is trashed, and your kids are rampaging like the little girl from The Exorcist. If you've got some snaps like that to share, you'll want to steal one of these hilarious Instagram captions for pictures of your kids being naughty.
Not everyone loves the idea of posting their kid's bad behavior online, according to Salon, but personally, I find it to be kind of cathartic. Taking a super funny picture of my daughter covered in blue paint helped me laugh about the situation, despite having to settle into the very unfunny task of scrubbing the paint off her skin and my floors. Looking at the situation through the lens of my phone camera helps me put it into perspective, literally and figuratively. Parenting can be exhausting, stressful, aggravating, and more, but there's so much humor to be found in it, even when your kids seem to be doing their best to break you down.
These 18 Instagram captions will get some likes, some laughs, and most importantly, let some other parent know that their kids aren't the only little hell-raisers around.
This article was originally published on