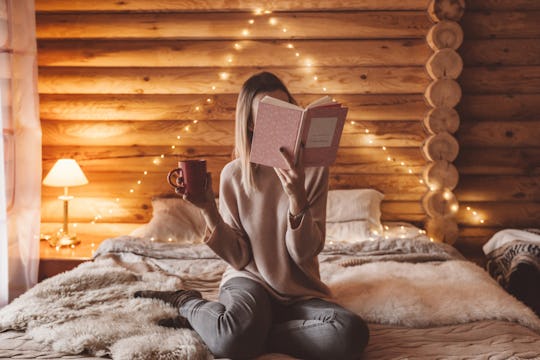 Alena Ozerova/Shutterstock
These Holiday Books Will Give Your Book Club All The Festive Feels
These reads pair well with spiked eggnog and cookies.
We may receive a portion of sales if you purchase a product through a link in this article.
Cozy blanket, hot coffee, fireplace roaring — the holidays might just be the best time of year to curl up with a book. If you haven't browsed all the best Christmas books for book clubs (or solo bookworms), it's time to pick which ones you'll add to your "to read" stack.
The best holiday book club reads usually have a few things in common. For starters, the setting: if the characters are navigating snow drifts or talking by a hot fire, well that adds to the festive feel. Of course, the plot should revolve around a holiday like Christmas, Hanukkah, or even New Year's Eve. (Just think, how many romance novels have used Christmas as a meet-cute or happily ever after scenario?) Bonus points if the book is by an author you know you enjoy, or someone who is always on top 10 Christmas book club reads lists.
But don't feel like it has to be a brand new, top-of-the-charts book to make it into your book club TBR pile. This list includes plenty of festive tales to put you and your book club in the holiday spirit — some are new releases for 2023 and some have been out for a couple of years, but still incredibly popular. Just pick your favorite, grab a Christmas throw, and get to reading.
So, which books will you read by Christmas tree light (and send gifs in the group text about) this year?
This article was originally published on