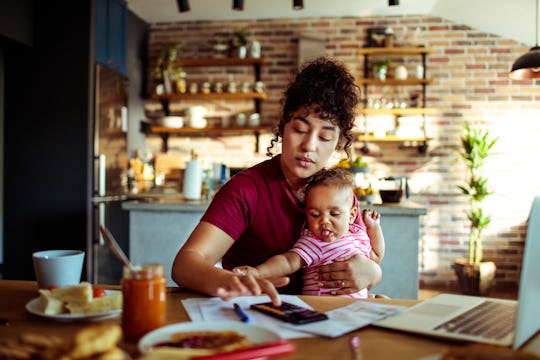 vorDa, Getty images
How Does Family Leave Affect Your Taxes?
Seven things parents should know if they took paid or unpaid family leave.
Family leave brings up mixed emotions for many parents. Maybe you're worried it will be hard to take a step back from work, or you're excited for the time with your baby, but you're anxious about missing wages. Knowing how maternity or paternity leave can affect your taxes can help you feel more informed and in control, whether you plan on taking paid or unpaid leave.
How family leave affects the 2021 taxes you file in 2022 will largely depend on where you live and the laws in that specific state. "[This] is one of the reasons why passing a federal paid leave policy is so important — the current patchwork of paid leave policies is often confusing to utilize at best and, more often than not, entirely absent," Neil Sroka, communications director with PL+US: Paid Leave for the United States, tells Romper.
Currently, the United States is the only industrialized nation that doesn't offer mandatory paid family leave, though you may get it if you live in a state with a paid leave policy. "To the extent an employer pays for benefits, the maternity leave would be taxable," Jonathan Meadows, a certified public accountant, tells Romper.
Life with a new baby and tax season are confusing enough on their own, but when you combine the two factors, then throw in a global pandemic plus income from potential child tax credits, tax season gets overwhelming fast. If you're feeling in over your head, the following tips will help clarify how family leave will affect your 2021 taxes.
Tax season is always confusing, but add sleep deprivation, Advance Child Tax Credits, and maternity leave to the equation and things get muddy fast. While it's helpful to learn as much as possible on your own, you may want to enlist the help of a professional if you can to assure that all your information is correct (and therefore your refund comes quickly, without any delays).
"Work with a tax pro to make sure you file your taxes correctly and to see if you should make any withholding adjustments before next year," Pickering says. "Using mobile banking platforms, such as H&R Block's offering in Spruce, is a good way to prepare and plan for any tax and financial adjustments you need to make for the future."
Additional Reporting by Jill Di Donato
Sources:
Amy Matsui, Director of Income Security at the National Women's Law Center
Kathy Pickering, chief tax officer at H&R Block
Jonathan Meadows, certified public accountant, Meadows CPA, PPLC
Shannon McNulty, New York City-based attorney and certified financial planner, Savvy Parents
Neil Sroka, communications director with PL+US: Paid Leave for the United States
This article was originally published on