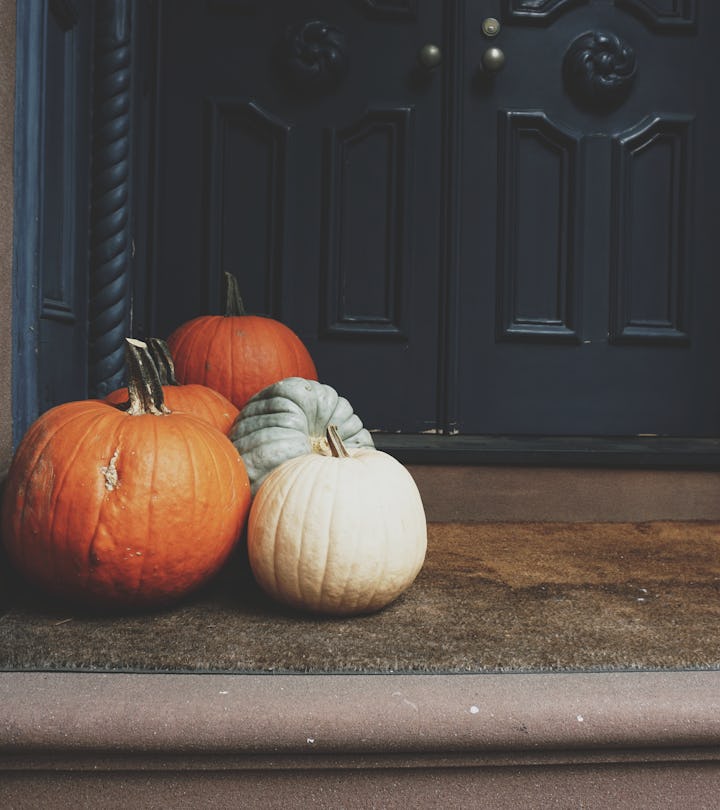 Merethe Svarstad Eeg / EyeEm / Getty images
Where To Throw Away Pumpkins When They're Rotting On Your Porch
Think beyond the garbage can.
It simply wouldn't be Halloween without jack-o'-lanterns and afternoon strolls around pumpkin patches with the fam. No matter how gross it feels to dig out those seedy pumpkin innards or how difficult it can be to carve the perfect ghoulish grin in its rind, a glowing jack-o'-lantern (or three) on the front porch or windowsill is worth all the effort. But what are you supposed to do with it once November hits? If you don't know exactly how to dispose of pumpkins after Halloween, you're definitely not alone.
More than one billion pounds of pumpkins get thrown away and left to rot in U.S. dumps each year, which contributes to the 35.3 million tons of annual food waste that ends up in landfills, according to data from the EPA. The Office of Energy Efficiency & Renewable Energy warns that, when left to decompose in a landfill, your seasonal Halloween pumpkins become known as municipal solid waste, which then turns into methane — a greenhouse gas that contributes to climate change by producing more than 20 times the warming effect of carbon dioxide.
Turns out, though, you don't have to throw your jack-o'-lantern in the trash after Halloween. If you want to be a little more green, knowing how to dispose of pumpkins after Halloween will spark plenty of sustainable and creative ideas to recycle your gourd. When the candy is all gone and you go to toss the carved or uncarved pumpkins that you've been proudly displaying all October long, think twice before you simply throw them in the garbage can. Instead, here's how you can save your pumpkin from the dump.
As long as you're checking for rot and mold on your pumpkin first, it's totally fine to give the gourd a second life. Minimize waste and have a little fun in the process. Who said a pumpkin's only role is to sit on the porch?
This article was originally published on