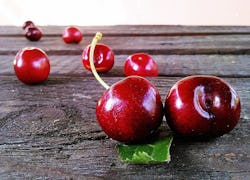 How To Know If You Popped Your Cherry? Experts Weigh In
DGlodowska/Pixabay
Doctors weigh in on the various ways one can determine whether or not their hymen is intact.
Of all the ways to describe your first time, popping your cherry is probably the most archaic (and yes, graphic). It refers to the theory that your hymen (the thin tissue at the opening of your vagina) breaks during sex, which might cause bleeding (hence the red color of the cherry). But how do you know if you popped your cherry or not? Especially when, newsflash, whether one's hymen is or is not intact is not an indication of one's sexual history as there are multiple ways a hymen can tear that have nothing to do with intercourse.
While it's considered a bit antiquated these days, the expression "to pop your cherry" dates way back to the '70s, Dictionary.com reported. (Although the usage of cherries with a sexual connotation goes even further back to the 1600s.) The said fruit in question is supposed to represent a woman's vagina, and it's definitely a slang term you wouldn't want to use in mixed company.
"The hymen is a tissue remnant from when the vagina forms during embryonic development," OB/GYN Dr. Lauren Demosthenes, MD, tells Romper in an email. "It has no purpose at all."
So it's a body part you can do without, in case you were wondering. And that myth that your "cherry gets popped" the first time you have sex? Well, that's also incorrect — most of the time. "If it hasn't broken from vigorous normal activity (and some women have firmer tissue than others), it may be broken at first intercourse," OB/GYN Dr. Mary Jane Minkin, MD, explains to Romper. "But to be honest, that happens rarely these days."
So if you're unsure about the state of your own hymen, here are some ways to know for sure.
Studies Referenced:
Mishori, R., Ferdowsian, H., Naimer, K., Volpellier, M., McHale, T., "The little tissue that couldn't — dispelling myths about the Hymen's role in determining sexual history and assault" 2019.
Experts:
Dr. Lauren Demosthenes, MD, an OB/GYN and Senior Medical Director with Babyscripts
Dr. Mary Jane Minkin, MD, an OB/GYN and Clinical Professor of OB/GYN at Yale
Dr. Kim Langdon, MD, an OB/GYN
Original reporting by Autumn Jones.