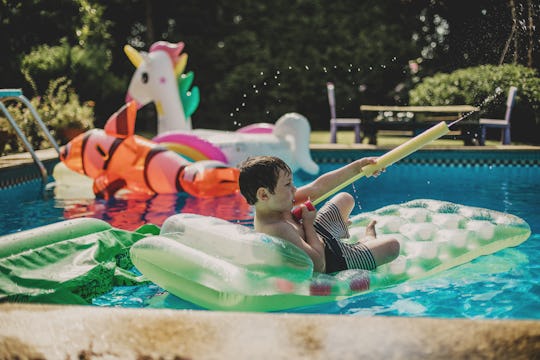 Carol Yepes/Moment/Getty Images
The Best Way To Store Pool Floats
To keep them in the best condition year after year.
One of the best things to come out of the last few years is the influx of fun pool floats. Gone are the days of boring blue inner tubes: pool floats now come shaped like unicorns, pineapples, rainbows; there are floats shaped like Barbie golf carts and Cozy Coupes — there's even a pool lounger for pregnant people with a hole divot for bellies. Basically if you can dream it, it can become a cool pool float. But if you and your family have amassed quite the collection (or even just a few) you may be wondering how to best store pool floats during the summer season and beyond. If you leave them on the pool deck, they may blow away, and if you leave them in the pool, they may not last as long (plus they're more susceptible to mold and other gross stuff). So what's a pool-float-loving family to do?
How to store pool floats long-term
If you'll be storing pool floats for a long time (say at the end of the swim season or if you go on a long mid-summer vacation) it's best to deflate your floats. Yes, this is annoying, and yes, it's also the best way to store pool floats.
First things first, make sure the floats are clean. You can use a gentle dish soap on them and hose them off (or have your kids scrub them in a kiddy pool, though you probably won't want soap in an in-ground pool).
"The most important thing when storing floats is that they should be dry. If you fold up a pool float that is wet, the moisture will have nowhere to go and can develop water stains over time. We recommend thoroughly drying with a towel, and letting your float sit in the sun to ensure it's fully dry before storing it inside," advises to Blake Barrett, co-founder of FUNBOY, the maker of playful pool floats.
The best way store pool floats long-term is to first deflate them completely, then fold and store in airtight containers or vacuum-sealed bag; this will prevent mildew, critters, and temperature changes from damaging your precious fleet of floats. "Keep everything out of sunlight when it's not in use. Gently fold and place indoors, away from sunlight and away from extreme temps. Super cold weather (freezing temps) can cause floats to crack. Once your float is dry, garages are the best for pool floats and accessories," Barrett says
How to store pool floats short-term
If you plan to use your pool floats a lot this summer, it makes sense that you won't want to deflate and thoroughly dry them after each use. At the very least, try to remove them from the water whenever possible. "If you remove your float from the pool (especially the sun) it won't fade and the material will last much longer. Just like a beach towel, if you leave a float in the sun for the entire summer, the UV will wear it down. Rinsing off your float to remove pool chemicals or salt water helps expand the life of your float," Barrett says.
We only include products that have been independently selected by Romper's editorial team. However, we may receive a portion of sales if you purchase a product through a link in this article.
If you're looking to create an actual pool float storage system, there are some clever pool float ideas out there (like the float organizer seen below), or you could simply install L-shaped ladder hooks along a fence or deck and hang up the floats— this works for hanging tubes from their center. A mounted hose holder serves the same purpose and looks chic on a fence.
One easy DIY idea is to install a hanging rod, place it in a shady spot, and tie the tubes to the rod using ribbon or robe. Another super easy and affordable way to store floats (especially if they're not easy to hang, like pool noodles) is to get a big mesh bag that can affix to a fence.
How not to store pool floats
As mentioned before, it's never a good idea to store deflated pool floats when they're still wet. This can cause mold to grow, and it also erodes the material. Keep the floats out of direct sun whenever possible, as sunlight and persistent heat can damage or discolor floats overtime. Heat will also cause the air inside the float to expand which could potentially cause the float to pop. And of course, keep them away from anything sharp, or any pets (or honestly, kids) that may want to take a bite.
"A pool float will last as long as you take care of it. Jumping or roughhousing on a float, dragging a float across the ground, and leaving it in the sun for the entire summer are all things that can decrease the useful life of your float," Barrett says.
Keep your pool toys and loungers in tiptop condition with these pool float storage ideas, and hopefully you'll enjoy them for years to come.
Sources interviewed:
Blake Barrett, co-founder of FUNBOY