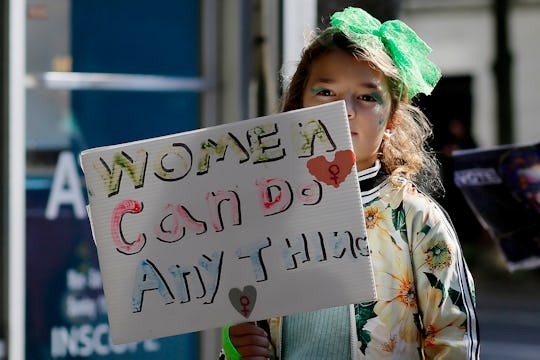 VIEW press/Corbis News/Getty Images
These Inspiring Quotes Are Perfect For International Day Of The Girl
At a time when the news cycle feels more like a real-life episode of The Handmaid's Tale, it's easy to feel disheartened. But it's important to remember that there are so many people working toward a better tomorrow. As these inspiring quotes for International Day of the Girl prove, there are still countless people engaged in vital, life-changing work all over the globe. Keep reading to feel a little bit better about the world.
Established in 2012, International Day of the Girl addresses the needs and challenges that girls face around the world. It promotes empowerment, education, and employment skills, alongside the attainment of basic human rights. The 2022 International Day of the Girl theme, "Our time is now — our rights, our future" focuses on the importance of giving girls the resources they need to advocate for themselves and for others, including the adults in the lives of girls standing up and holding themselves accountable to better the lives of girls all over the world. The day itself serves as a reminder not only to fight for equity, but to empower the next generation with the skills and resources that they need to succeed.
There are countless ways to get involved with International Day of the Girl both in real life and online. In the meantime, let these brilliant quotes inspire the younger generation as well as yourself.
This article was originally published on