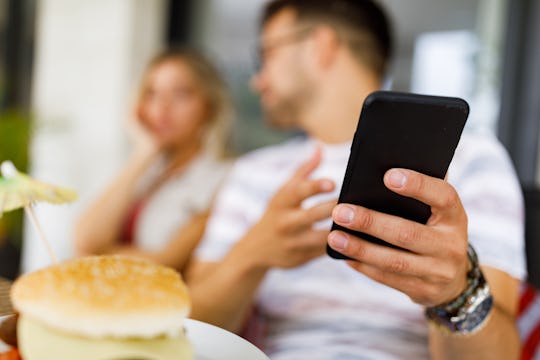 skynesher/E+/Getty Images
10 Things That Are Definitely Cheating
If it feels like cheating, it's probably cheating.
When I was younger, I fully believed that there was no black or white areas when it came to cheating. I didn't think the "once a cheater, always a cheater" quote was true, and I felt like some things could be perceived differently by two different people. There are so many grey areas — like, is kissing cheating? Sexting? What even is cheating? It can be weirdly confusing. But now that I'm older (and have been cheated on more than once), I believe that the list of things that definitely should be considered cheating when you're in a relationship is actually quite long.
Maybe it's because I've been burned, but I'm now of the mindset that there is no excuse for cheating of any kind. People can say they are unhappy, that their partner drove them to it, or that they had no control over themselves, but I won't buy it. It's this simple to me — if you want out of a relationship, then just leave. Don't pretend to be happy while cheating. Don't argue that if your partner had done this or that, you wouldn't have strayed. There's literally no excuse for it. Just because you're not having full-on sex with someone else doesn't mean you aren't cheating.
And, in the same vein, there are some things that aren't considered cheating. We're allowed to have attractive friends of the same sex that we're attracted to. It's not cheating to go out to a bar without your SO and get drunk on a Friday night. But exchanging numbers with a person at that bar and pretending like you're single? Yup, that most definitely is cheating, along with these eleven other things. If you find your partner doing these things or you yourself are caught in a few of the acts, it's time to reevaluate your relationship and get over your cheating self already.
Honestly, if it feels like cheating — whether you're the one doing the cheating, or the one being cheated on — it is probably cheating. If your inner alarm bells are ringing, listen to them.
This article was originally published on