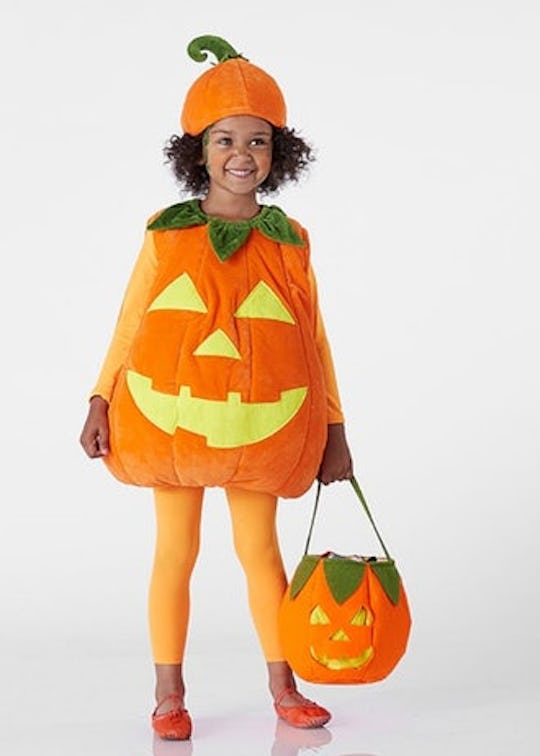 Pottery Barn Kids
These Are The Coolest Kids Halloween Costumes Of The Year
From a classic Jack-o-lantern to a light-up astronaut.
As they get older, kids become more and more opinionated on their Halloween costumes (farewell, cute family costumes), so finding something that's just right for them can be a bit tough. There is no shortage of styles available, and the best kids Halloween costumes of 2021 are a mixture of beloved classics and some new characters. Between witches, pumpkins, and all things "Fortnite," there are plenty of great options for your picky kid to choose from.
As long as I've known them, my brother-in-law and sister-in-law have created some seriously epic family Halloween costumes. Year after year, I would look forward to seeing what they'd come up with because I knew it would be amazing, but last year, everything changed. Their oldest daughter was no longer interested in dressing up in coordinating outfits, and the tradition came to a halt. She's now at a point where she gets to call the shots on her own kids Halloween costume, whether or parents like it or not.
If you're finding yourself in a similar boat, where your kid has become too cool to let you influence their Halloween costume selection, then you may want to get yourself familiar with the best kids Halloween costumes of 2021. Whatever you do, though, don't try to plan a family costume around your kid's choice because it will just be "soooo embarrassing" and you'll never hear the end of it.
We only include products that have been independently selected by Romper's editorial team. However, we may receive a portion of sales if you purchase a product through a link in this article.
As tough as it may be to have to let go of your family costumes thanks to your big kid's opinions, watching them pick their own costume at least gives you a chance to learn a little bit more about their personality and their interests. Enjoy it while you can, because it won't be long before they decide they're too old for trick-or-treating entirely.