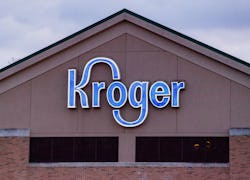 Before You Head To Kroger On Christmas, Check Out Their Holiday Hours
SOPA Images/LightRocket/Getty Images
Because dashing to the store at the last minute is practically tradition.
Even the most well-prepared cook needs to make an unexpected grocery run now and then. And inevitably, you're going to run out of paprika or baking soda or something during the final stages of making a big holiday meal, which is precisely why knowing all about Kroger's store hours on Christmas Eve and Christmas Day for 2021 can be crucial info for anyone cooking and prepping for a feast this holiday. It's nice to find some peace of mind by knowing exactly what's open during these notoriously busy days, even if you're just slipping out to the store to replenish your supply of much needed eggnog.
Kroger is one of the largest grocery retailers in the U.S., with supermarkets that include grocery, pharmacy, and most essential household items, in general. And while you may know Kroger as an obvious staple for holiday grocery shopping, the supermarket chain also stocks other seasonal and festive items you might be looking for. So, if you're out shopping for all the spices, produce, and snacks you'll be needing for the holiday, you can also grab some last-minute decorations, such as an inflatable snowman for the front yard, wreaths to hang on the door, and strings of lights to spruce up your family gathering or holiday party. You might even find some items that are perfect for stocking stuffers, including chocolates, peppermint bark, and mini card games.
As the holidays roll around and the December calendar inches closer to Christmas, you can expect Kroger to be extremely busy as people stock up on everything they need to cook big, festive meals for family and friends. Given that, it's helpful to know the retailer's holiday hours and be prepared for a last minute "what time does Kroger close on Christmas Eve?" scenario. Below you'll find all you need to know for the holiday season.
Is Kroger Open On Christmas Eve?
Chances are, you'll have at least a few hours to swing by Kroger in the final stretch of days and weeks leading up to the 25th of December. According to the retailer, the rule of thumb is that Kroger's family of stores will be open on Christmas Eve with operating hours varying by location and market. This means that in order to get the most correct information about stores near you, you should use the Kroger store locator to find your local store's hours and give them a call if you have questions about their holiday operating hours. You can anticipate the Christmas Eve hours to be slightly reduced in most places.
Is Kroger Open On Christmas Day?
Wondering if Kroger is open on Christmas Day? Unfortunately, the majority of Kroger stores will be closed on Christmas, so hopefully you won't need anything on the holiday itself. All locations will then reopen the following day with regular hours on Dec. 26.
All in all, Kroger's aim is to make the holiday grocery shopping period as convenient as possible for you, so if shopping in-store isn't that appealing to you and your schedule, Kroger offers a variety of other ways to grab your groceries. You can arrange to have your groceries delivered or available for store pickup, and shipping on bulk orders is also available. While the holiday season is always bustling, if not slightly hectic, stores like Kroger make holiday meal shopping a little easier.
This article was originally published on