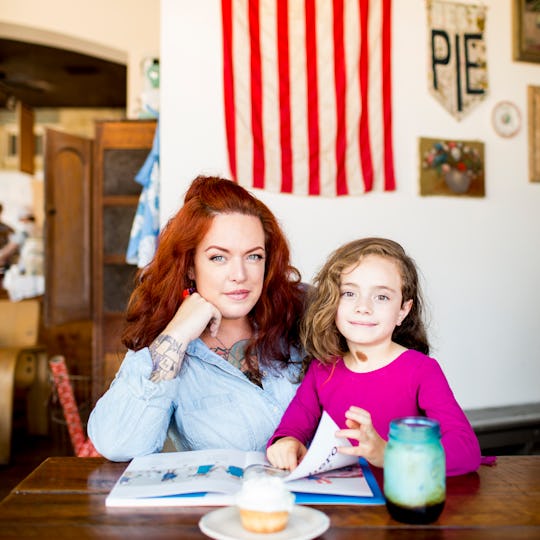 This Mom's Gorgeous Costumes For Kids Will Remind You To Keep Them Little As Long As You Can
by Kelly Mullen-McWilliams
Lane Huerta started small, selling tea towels and pillows on Etsy, while bartending nights. One day, her daughter, Clementine, blew into the laundry room, quickly commandeering a clean sheet to wear like a superhero's cape. That was the spark that led to Lovelane Designs, a children's costume shop featuring wizards, mermaids, and of course, superheroes. "Clementine was the inspiration," she tells Romper. "Now she's the model, the critic, and the muse."
In 2014, Etsy featured an image that has now become iconic for Lovelane Designs: Clementine, flying like a superhero on pink wings. The photo, which invokes all the fantasy and whimsy of childhood, resonated with many. "Etsy picked it up on social media, and everything changed. It took off so quickly," says Huerta, one of Romper's 2017 Made It Award honorees. Her designs were selling out, so she quit her bartending job and enlisted the help of interns from the Savannah College of Art Design to keep up with orders. She attributes her ongoing success to unique designs, fun photography, and mothers telling other mothers. "Word of mouth," she explains. "That's how it's taken off in the last couple of years."
Huerta's vision — of a childhood filigreed with mermaids, robust with pirates, and roaring with dragons — seems to have struck a chord in a world dominated by devices. Huerta's costumes beg to be danced and twirled in, preferably out of doors. When she makes something new, Clementine and her friends test the prototypes, making up stories and characters as they do. "Truly being free and imagining and playing ... kids really need to do that, and it's good for parents, too," she tells me.
Keeping up with production has been a challenge. Huerta's designs are handmade, eco-friendly, and time-consuming to make, but she wouldn't have it any other way. In the last decade, there's been a resurgence of interest in handmade, artisan work. Unlike the children's wear in some big box stores, Huerta's costumes are made to last, to be passed down to cousins and younger children, embroidered with memories.
Huerta refers to the maker movement, and believes part of its success is due to social media. Across Instagram and other platforms, Huerta does more than sell a product — she tells a story, and tells it well.
In the first years of starting a business, you're probably not going to sleep much. But, the payoff — doing something you enjoy, creating a new community, and enacting your creative vision — is huge.
Another struggle is work-life balance — what else? — though it helps that Clementine, now in first grade, is old enough to hang out in Huerta's studio in downtown Savannah. "She's there, she sees why I work so hard, and is part of the vibe," says Huerta, who often works late into the night. However, she says she's learning to delegate more. "That's really huge. It allows me to have after school and weekends free, which are so important this time of year."
For those just starting out, Huerta has some bad news: in the first years of starting a business, you're probably not going to sleep much. But, the payoff — doing something you enjoy, creating a new community, and enacting your creative vision — is huge, she says. Huerta is now expanding the Lovelane experience for customers, planning to offer DIY workshops in Savannah, and kits online. Her book, Superhero Sewing, hit stores in September of this year.
Huerta's favorite piece in the store? It changes from week to week. Right now, she's loving the Lava Dragon. "I want to empower all the little ones, but especially the girls, who are digging the dragons right now," says Huerta. This weekend, she and her daughter will be playing hard, creating the story behind Clementine's Halloween costume — a character inspired by Indiana Jones that she calls Adventure Cat.
Thinking of her daughter's super-imaginative choice, Huerta laughs. "Who knows what we'll be making next year?"
To get to know Huerta better, check out her Romper Screenshot below:
Check out Romper's new video series, Romper's Doula Diaries:
Check out the entire Romper's Doula Diaries series and other videos on Facebook and the Bustle app across Apple TV, Roku, and Amazon Fire TV.