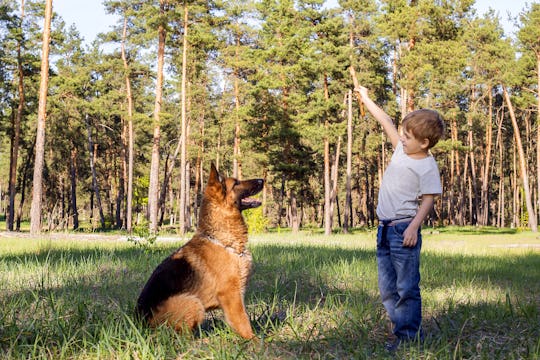 Shutterstock
These 16 Loyal Dog Breeds Will Do Anything For Their Families
If you're thinking of welcoming a four-legged friend into your family, there's a lot to consider. You'll need to know which breeds need a lot of exercise, which ones shed, and their overall temperament. (And of course, you want a dog that's cute, sweet, and going to wag its tail off and do a wiggle dance every time you come home, too.) But apart from the furry factor, you'll also want a dog who's totally devoted to your family. So what are the most loyal dog breeds?
Well, it's not always an easy question to answer. Sure, there are some breeds that are innately known for their kind, loyal nature, but ultimately it really depends on the individual animal. For example, you might think that a certain breed (like a pit bull or a Doberman) is ferocious, but you'd be surprised to know that they're a total mush ball when they're with their loved ones. "Many dogs are very loyal, and almost any dog can be a very loyal companion," Texas-based veterinarian Dr. Sara Ochoa, DVM, tells Romper. "So when picking a loyal dog for your family, it will depend on your family and the individual dog to determine if he will be the best breed for your family."
So if you want to find man's best friend to add to the family, picking a pooch from one of these most loyal dog breeds will mean years of happiness — and wet sloppy kisses, too.
This article was originally published on