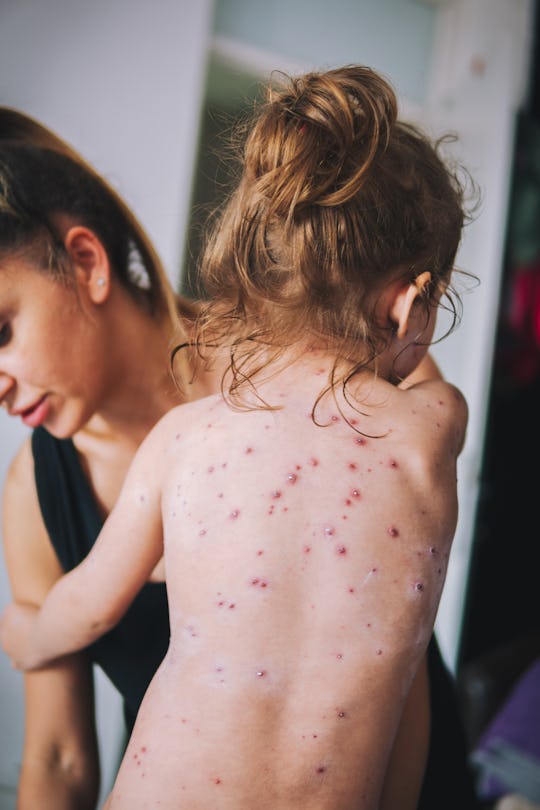 MilosBataveljic/E+/Getty Images
A Measles Outbreak In Ohio Has Mostly Affected Unvaccinated Children Under 5
32 children have been hospitalized.
Back in November 2022, four cases of the measles were reported at a Columbus, Ohio-area daycare facility. In December, more cases of the virus, which can be prevented with a readily-available vaccine, were reported. Now, just two months after those first reports, there have been at least 82 cases of the measles in central Ohio, all among children.
The measles outbreak in central Ohio has resulted in at least 32 hospitalizations so far, according to data shared by Columbus public health officials, with no deaths being reported. Unfortunately, 74 of those confirmed cases were among children who had not been vaccinated agains the measles, while four had been partially vaccinated and four more had unknown vaccination status. Nearly all of the confirmed cases (94%) were reported in infants, toddlers, and children under the age of five years old. The MMR vaccine, which is easily accessible throughout the country, protects against measles, rubella, and the mumps, and people are considered fully vaccinated after two doses. The first dose is generally administered when children are between 12 to 15 months, while the second is administered between 4 and 6 years old.
"We are working diligently with the cases to identify any potential exposures and to notify people who were exposed," Columbus Public Health Commissioner Dr. Mysheika Roberts said in a news release in November regarding the outbreak. "The most important thing you can do to protect against measles is to get vaccinated with the measles-mumps-rubella (MMR) vaccine, which is safe and highly effective."
Measles is a highly contagious respiratory illness that can cause severe and even life-threatening complications in young children. Symptoms can take anywhere from seven to 14 days to appear, giving the infected person plenty of time to spread the virus while perhaps being completely unaware; per data from the CDC, 9 out of 10 people exposed to the virus will become infected. Some of the common complications attributed to measles include ear infections, diarrhea, fever, and conjunctivitis, while more severe complications include pneumonia, encephalitis (swelling of the brain) and for pregnant women, premature birth or low birth weight babies. Between one and three out of every 1,000 cases of measles will result in death due to respiratory and neurological complications, per the CDC.
The CDC notes that there has been a significant decline in eligible children being vaccinated against measles in recent years, with 40 million children missing their vaccination in 2021 alone. "This decline is a significant setback in global progress towards achieving and maintaining measles elimination and leaves millions of children susceptible to infection," the CDC wrote in a November statement. Charles Patterson, the health commissioner for Clark County in Ohio, noted that myths surrounding vaccines is likely behind this hesitancy, "The vaccine hesitancy is something that we're all going to pay dearly for the next several years from the COVID fiasco," Patterson told Your Erie.
Ohio is not the only state to suffer an outbreak of the measles in recent months. Minnesota also reported 13 cases of the measles over the summer, while the CDC reports that 118 measles cases had been reported by December 2022 in five jurisdictions across the country, up from 49 cases in 2021 and 13 cases in 2020.