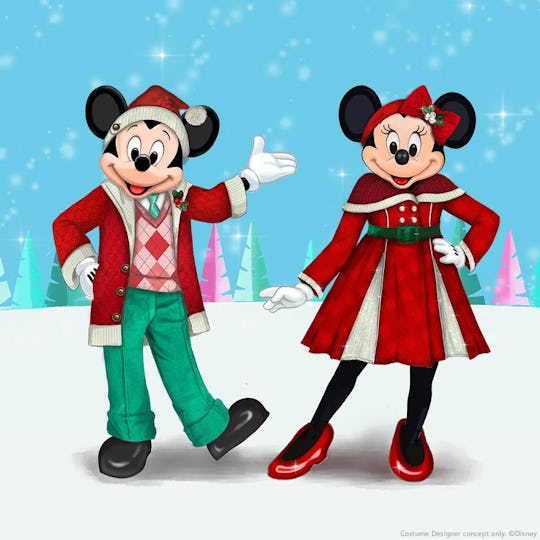 Disney
Micky & Minnie Mouse's New Holiday Outfits Are Giving Major Clark Griswold Vibes
They look like they're hosting a Christmas party.
Another year, another new holiday look for Mickey and Minnie Mouse. And this year they're looking especially modern and amazing in their festive outfits. No offense to Mickey Mouse, but Minnie in particular. She seems to have a little extra kick in her step, a little extra sparkle this year, and we're here for it.
Disneyland Resort gave fans a sneak peek of what Mickey Mouse and Minnie Mouse, his longtime lady love, will look like this festive season. We all know that Disney Parks really pull out all the stops for the holidays, giving their character a cheerful little makeover for when they wander around the grounds to hang out with guests. And this year, Mickey and Minnie Mouse are looking pretty spiffy for the holidays. Mickey will be wearing green pants with a red and pink sweater vest over a button-down shirt and a Santa-type jacket thrown over the whole look. The look, along with his Santa hat, is actually sort of reminiscent of Clark Griswold's in Christmas Vacation. Or maybe it's just the look of a well-established mouse hosting a dinner party in his '60s style den, because that's the vibe it's giving.
Especially with Minnie Mouse wearing a full red, fit-and-flare cocktail dress trimmed in white fur with a green belt to cinch in at the waist. She completed the look with a festive red bow, black tights, and red heels. And in a first look photo of her outfit, Minnie Mouse is clearly feeling herself. And looks ready to get a round of old-fashioned Christmas carols going at the drop of a hat like an excellent party hostess.
Both Mickey and Minnie tend to be very fashion-forward when it comes to changing their outfits for the seasons, and this year feels especially unique for the two of them. Minnie tends to favor a fit-and-flare look, although historically she has gone in for a polka-dotted dress and a more coquettish hair bow. Times have been changing for her, and not just at Christmas. Minnie Mouse had a very French look at Disneyland Paris for Bastille Day, ditching her polka dots for red-and-white striped top and a beret. Now she's coming out for the holidays in a rich-looking red dress, which we dearly hope is velvet, with white trim.
Minnie Mouse continues to evolve as a style icon. And she's bringing Mickey right along with her, sweater vest and all.