Cotton-Headed Ninny Muggins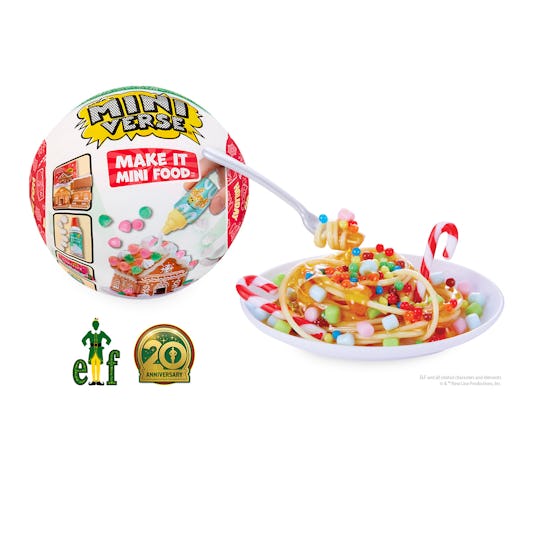 MGA
You Don't Have To Eat Buddy's Spaghetti, But You *Can* Make A Mini Version
Except instead of syrup, let's use resin.
Let me just break your brain for a little bit: Elf is 20 years old this year. That means you've been shouting things like, "I just like smiling, smiling's my favorite" and "You smell like beef and cheese, you don't smell like Santa" for so long, those quotes are almost old enough to drink. But if you haven't quite got your nerve up to try Buddy's breakfast spaghetti, have no fear — you can now make your own tiny version with the Miniverse Mini Buddy the Elf Spaghetti Dish.
If you're unfamiliar with the Miniverse line, it's a ridiculously fun craft/toy collection that includes teeny tiny items that you actually mix up as if you were cooking to turn into (non-edible) resin miniatures. You can display them and collect them, and the seasonal Miniverse Make It Mini Food lines are just so fun. That's where the Elf version comes in — with all of its teeny tiny spaghetti noodles.
Part of the Miniverse Make It Mini Food Holiday Theme Collection, the Elf version is an ultra-rare surprise collectible. Hidden by the holiday packaging, there are only 20,000 mini Buddy the Elf spaghetti dishes available, and half the fun is going to be buying the holiday balls to see if it's the one.
But don't worry, if you don't get a chance to whip up Buddy's signature dish of spaghetti noodles, marshmallows, candy canes, and more, there are still plenty of fun holiday mini dishes to make. The Miniverse Make It Mini Food Holiday Theme line also includes a gingerbread house capsule, hot cocoa, and even a roast turkey. (As a person who hosts Thanksgiving every year, I need this one in my life.) The Holiday Theme collection is available now at major retailers, and the individual capsules are priced at $9.99.