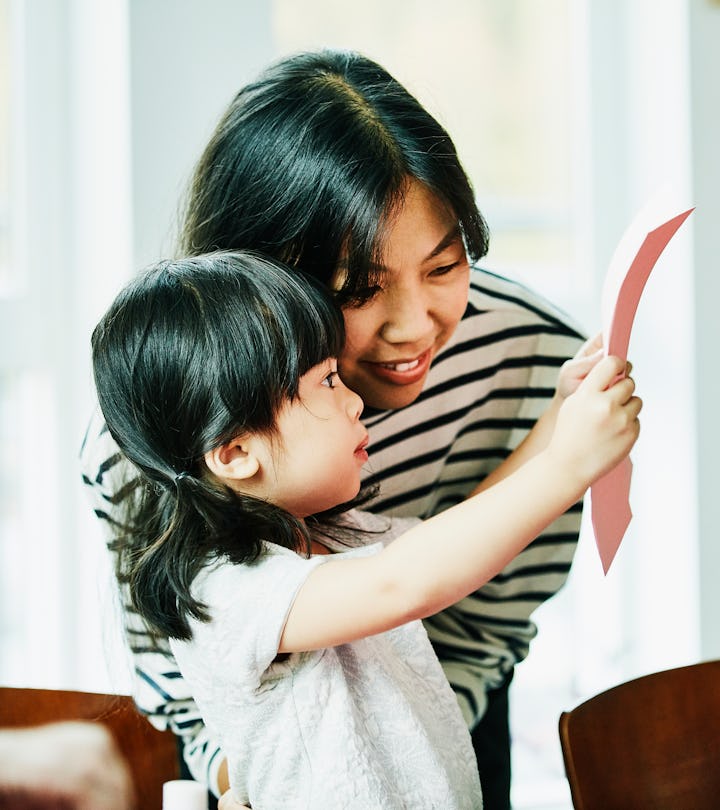 Thomas Barwick/DigitalVision/Getty Images
These 24 Mother's Day Cards Are Sure To Outshine Any Gift
Whatever you do, don't skip the card.
We may receive a portion of sales if you purchase a product through a link in this article.
Even if you and your partner decided you're not exchanging gifts for big holidays this year (that new roof won't pay for itself, right?), or she says that her children are the only gift she'll ever need, there's something you should know: you need to get her a Mother's Day card anyway. Mother's Day is an opportunity for partners and kids to slow down, think about everything a mother does to keep her family happy and thriving, and show her you see it all. Mother's Day cards are exactly the place to do that — you can find one for every member of the family to convey what each person wants to say. Then, add your own messages of love and thanks. No doubt Mom will appreciate the recognition, and chances are she'll stash the cards away to reread when she needs a little pick-me-up.
Whether or not you get your partner, your mom, your mother-in-law, your sister, or your mom friends a gift for Mother's Day is totally up to you, but if you choose not to exchange any presents for the holiday, then a card with a handwritten message is a sweet gesture that all moms will appreciate.
Free printable Mother's Day cards
1. A fully customizable card
This printable Mother's Day card goes above and beyond what I'd expect from something free. It has a beautiful graphic on the outside, plus you can customize the text on the inside (or leave the sweet message as is). You also have the option to email this one.
2. A free printable Mother's Day card
Classic black and white gets a floral twist with this free printable from Delia Creates. It has a cool minimalist vibe so your message will really shine. This floral Mother's Day card you can print at home looks especially nice printed on cardstock.
3. A cute Mother's Day letter from kids
This mad libs style Mother's Day letter is sure to provide plenty of laughs. Kids of all ages can fill this out as long as younger children have an adults' help. Plus it's always fun to see what your kid really does notice about you. There's also a printable available for grandmas and nannas.
4. A blank printable card
This Mother's Day card is a digital download that comes to your inbox as a PDF after you buy it. The perk of simple cute card like this is that because it's digital you can print it off as many times as you like and give it to all the moms in your life.
5. A funny printable Mother's Day card
When you become a mom yourself, it's never a bad idea to acknowledge to your own mother how challenging motherhood can be at times. This free printable Mother's Day card does just that in a funny way. You can customize the text (and they even have some suggested messages if you're stuck) and it can be sent as an Ecard or printed.
Mother's Day Ecards
1. A Paperless Post Mother's Day card
Let your mom know that she's simply the best by sending her this punny virtual card. It will be delivered straight to her inbox and it pops out of a virtual envelope just like snail mail.
2. A video Ecard
A video and a card combine in this funny "symphony," which is a compilation of kids in various situations yelling, "Mom!" This video card is relatable, hilarious, and strangely nostalgic and moving if her kids are grown.
3. An animated Mother's Day card
Remind mom that she's one in a million with this gorgeous animated Mother's Day card from brand Ojolie. You can say as little or as much as you'd like and your personalized text will appear beneath the card. You'll need to set up a subscription to Ojolie which is just over $20 a year, and means you can send beautiful cards for every occasion.
4. A bilingual English/Spanish Ecard
Give mom a virtual smooch with this bilingual Ecard from kids Spanish-learning app, Canticos. You or your child can type in your own message and email it over with the click of a button without ever leaving the website.
5. A card for a special person who feels like a mom
If there's someone in your life who feels like a mom to you, show their appreciation with this Ecard that lets you put in your own special photo. In addition to a picture, you can also put in a personalized message. Just note that you'll need an OpenMe subscription to send this, which is totally free.
6. A pretty Mother's Day Ecard
This springy Mother's Day card is just plain pretty, and has the classic Mother's Day flower motif going on. The heartfelt message will also make your mom smile.
Sentimental Mother's Day cards
1. A Mother's Day card someone else mails for you
Want a Mother's Day card you can send to any mom that's just plain pretty? This one fits the bill, and you can add a personalized message to the inside that an artist will hand letter in beautiful writing. It'll be mailed the day after your order, or on the date of your choosing, if you'd like to schedule it to arrive closer to the holiday.
2. A Mother's Day card for a stepmom
Even if they're not your biological mother, don't forget a card for the wonderful bonus mom you've looked up to. Any stepmom will be touched to receive a card acknowledging their role in your life.
3. A sweet, simple Mother's Day card
Show your love for your mom without getting too mushy or long-winded. The designed font and curated color palette make this card feel a little more special than what's usually on the Hallmark aisle, and the inside is blank to write whatever you want within (like a Mother's Day poem).
4. A pop-up bouquet Mother's Day card
Make her Mother's Day bouquet last forever with these intricate pop-up cards. This is pricier than your average greeting card, but it also makes a major statement with its delicately cut pop-up design, and the bouquet will last all year.
5. A Mother's Day Card for your wife
In addition to letting her sleep in, don't forget to give your wife a card this Mother's Day. Show your wife how much she means to you with this sweet Mother's Day card. It will tell her just how much you value having her on your team, and remind her that no one else could take her place.
6. A Mother's Day card for a mom-to-be
Don't forget moms-to-be this Mother's Day. This sweet and simple card honors the pregnant mom-to-be with a little illustrated version of her future self cuddling her baby. More than anything, she'll be so happy that you thought of her.
7. One for the hero moms
Moms are the superheroes we need every day — the ones who make sure there are clean school uniforms for Monday morning, who never forget a doctors' appointment, and who keep serving their toddlers vegetables, knowing the odds are not in their favor. Acknowledge the Super Mom in your life with this Mother's Day card dedicated to her small acts of heroism.
8. A Mother's Day card for Grandma
As we've learned from moms, not all heroes wear capes. Similarly, not all grandmas get the trophies they deserve. So, this blue ribbon card is perfect for the grandma who shows up, steps in, and always has a hug ready,
Funny Mother's Day Cards
1. A funny Mother's Day card
Who doesn't want a sexy sailor for Mother's Day? This cute card will definitely make her giggle. Besides, it's from an indie greeting card company, so you're shopping small and making your card purchase count.
2. A punny Mother's Day card
This funny Mother's Day card is for the mom who was kind enough to hand down her bodacious booty, and inspire the mom jeans you now have in your dresser. Thanks Ma.
3. A Mother's Day Card for music lovers
Honor your mom's inner rockstar with this Freddie Mercury card. It's sure to give her an unexpected laugh in a sea of floral print and butterfly cards covered in glitter.
4. A funny Mother's Day card from kids
Little kids love dinosaurs and bad puns (unfortunately for parents everywhere). But giving Mom a card that actually feels like her youngest could've picked it out is special, and the Dino-Mite card achieves that.
5. A Mother's Day card that doesn't mince words
Why beat around the bush, you know? If you're not afraid to drop a few bad words around your mom, then she'll get a real kick out of this card (and it's funny because it's true).
Even if you don't give your mom a gift, a Mother's Day card is always appreciated (even if she says she doesn't want anything). Whether you're lucky enough to see your mom on the day, or she's far away, these Mother's Day cards will let her know you appreciate her.