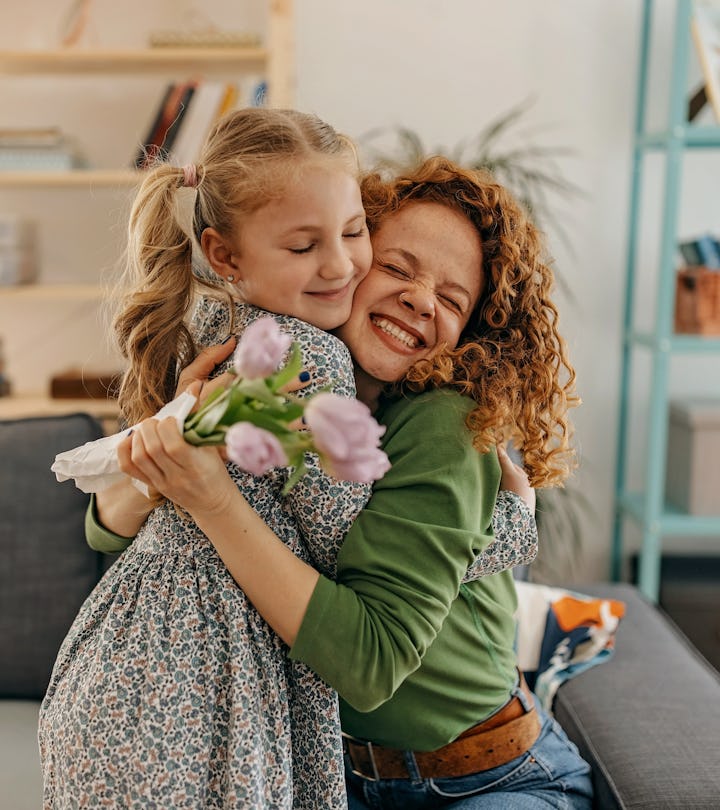 supersizer/E+/Getty Images
When Is Mother's Day In 2023? Here's When The U.S. Celebrates Moms
Let's hear it for the moms.
Isn't it the same with every holiday? They just have a way of sneaking up on you. This year, don't let Mother's Day catch you off guard — make sure you have plenty of time to plan the day your partner, mom, grandma, aunt, or other loved one deserves. So, when is Mother's Day in 2023? Grab your phone and put this date in your calendar now. You're going to need the next few weeks to make fancy dinner reservations, order the perfect gift, and write an original poem (or borrow a poem about motherhood from a pro; that's sweet too).
When is Mother's Day 2023 in the U.S.?
Sunday, May 14 is when families in America will celebrate Mother's Day this year. The exact date of Mother's Day in the U.S. changes each year because it's always held on the second Sunday in May.
Interesting fact: In other countries, Mother's Day can fall not only on different days, but in different months. In the United Kingdom, Mother's Day fell on Sunday, March 19, 2023. As a tradition, Mother's Day there always falls on the fourth Sunday of Lent. In Mexico, Mother's Day is held on May 10 each year. And in countries like Australia and Canada, Mother's Day is celebrated the same day as it is here in the U.S.
Ways to celebrate Mother's Day
Wondering what Mama really wants to do on her special day? Your goal should be to make them feel seen and appreciated, whatever that looks like. If you're entertaining a brunch lover, whip up the best late morning recipe you can think of, and serve it up with a sentimental card. Or, send Mom off to spend the day at the spa, totally kid-free. P.S. If you're wondering whether you should celebrate Mother's Day when you're pregnant, the answer is absolutely yes.
Make an extra special brunch at home. Pass on the usual pancakes and make something that'll wow, like orange mimosa cinnamon rolls or homemade brown butter crepes.
Present Mom with a pre-booked day at the spa — massage, pedicure, facial, you get the idea — to enjoy a relaxing, rejuvenating day off from everything.
Help the kids make homemade cards for Mom, and make one yourself while you're at it. You can fill them with jokes, corny puns, or heartfelt motherhood quotes.
Throw a party for all the moms in your family. It could be a tea party, seafood boil, or whatever sort of shindig your loved ones will enjoy most. The only rule: the moms don't do any of the prep, cooking, or cleanup.
Pamper Mom with a special gift, flowers, breakfast in bed, or all of the above.
However you choose to celebrate Mother's Day 2023, make it your mission to create a special memory for the moms you love and appreciate, including moms, grandmothers, aunts, sisters, and friends. They will always remember feeling celebrated by the people they adore most.