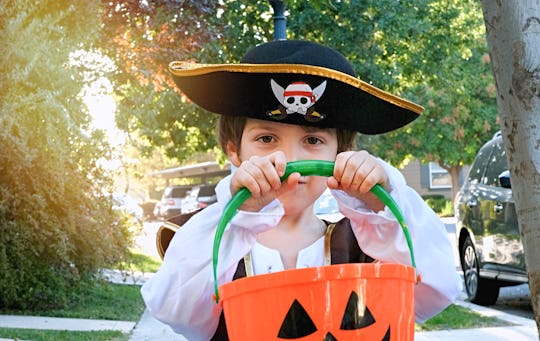 Juanmonino/E+/Getty Images
These Halloween Toys & Treats Are Even Better Than Candy
They're allergy-friendly & won't cause a sugar crash.
For kids, Halloween is pretty much synonymous with "candy," but that's kind of a bummer if they have any kind of food allergy. You can help make the holiday more fun (and much safer) for these kids by handing out alternatives to Halloween candy to your trick-or-treaters instead. Plus, not only will kids with food allergies feel included, but kids without any allergies will still enjoy the treats just as much.
As someone with a nephew who has a life-threatening peanut allergy, I always stock up on alternatives to Halloween candy for trick-or-treaters, because I know how hard the holiday was on him when he was little, and how scary it was for his parents. Food allergies are extremely common, and over the years I've seen so many kids and parents smile when they see my bucket of non-food goodies for the kids to choose from. It's not just the food-allergy kids that love these treats, either, because I usually run out of toys long before I run out of candy. (Pro tip: have separate bowls for candy and toys to avoid cross-contamination).
If you decide you'd like to offer kids alternatives to Halloween candy this year, you can even register your home with the Teal Pumpkin Project, which provides a map to parents that indicate which homes in their neighborhoods offer non-food treats. As for what kind of treats to give, here are some fun ideas to help you get started.
We only include products that have been independently selected by Romper's editorial team. However, we may receive a portion of sales if you purchase a product through a link in this article.
Handing out alternatives to Halloween candy is always a good idea because non-food treats are something every kid will enjoy, including the ones with food allergies who may be limited to what candy they can eat.