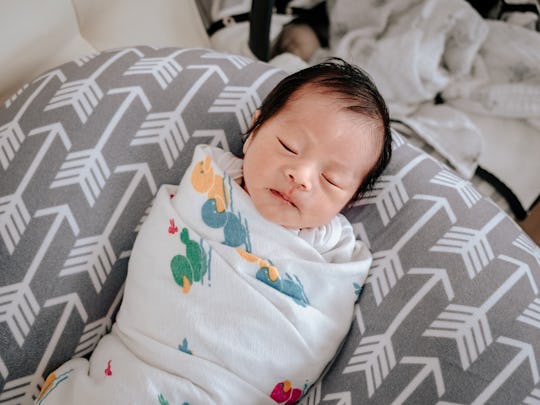 Shutterstock
Feds Offer Safety Recommendations On Nursing Pillows After Over 160 Infant Deaths
Designed to facilitate breastfeeding, a new report has found that these products are too often misused and now regulators have responded.
After an analysis of more than 15 years of public records and federal data by NBC News found that U-shaped pillows meant to facilitate breastfeeding have been associated with at least 162 infant deaths since 2007, federal regulators have offered safety recommendations on nursing pillows. On Wednesday, just weeks after the tragic report, the Consumer Product Safety Commission (CPSC) recommended the first ever federal requirements that help avoid tragedies the news outlet categorized as "neither isolated nor unavoidable."
Circumstances among the cases that prompted these guidelines varied from family to family, but usually happened when the baby was placed to sleep on or near the pillow. In a number of instances, a baby's position on the pillow, either slumped down or arched backward constricted their airways and led to their death. In others they suffocated when their faces turned toward the pillow and they couldn't move away. At least three incidents occurred when a nursing parent fell asleep while breastfeeding with the assistance of such a pillow.
While these products generally warn against unsupervised use in their materials and websites, NBC News suggests some of the marketing may lead to misunderstandings and accidents. Suggesting the product can be used as a lounger, for example, or for tummy time, can lead to unsupervised use which in turn can lead to tragedy. The outlet's report includes language from Boppy touting the pillow's "range of versatile uses," though verbiage no longer appears on the company's website. (The link used in the NBC News report now includes language explicitly warning against using the Boppy for infant sleep). Leachco also includes a warning against using its pillows as sleep products, but as of press time still describes its Cuddle-U pillow as "multipurpose," appropriate for tummy time and lounging.
CPSC did not issue a warning regarding these products until 2020 — their last until this latest recommendation. Since then, at least 36 babies have died.
The new recommendations, which will be ratified or rejected next month by the agency, include more prominent labels on the pillows themselves; a level of sufficient firmness that is less likely to cause suffocation; and openings in U-shaped pillows wide enough to avoid restricting a baby's head movements. CPSC also recommended that nursing pillows not include straps, as such a feature could lead parents to believe the pillows are safe for unattended use.
Nursing pillows have been around since 1989 when Susan Brown invented the Boppy. In those days, slightly only half of new moms breastfed their babies for any amount of time. Data from the Centers of Disease Control and Prevention (CDC) reports that as of 2022, more than 80% of new moms at least attempt breastfeeding and more than 55% continue to nurse to 6 months of age. As such, nursing pillows — which facilitate breastfeeding by placing the baby in a position that makes feeding more comfortable — are considered by many new parents to be a baby registry must-have. The industry estimates that approximately 1.34 million such pillows from brands like Boppy, FridaMom, and Dock-A-Tot, among others, and are sold per year in the United States. To put that number into perspective, approximately 3.7 million babies were born in 2021, so it's reasonable to assume that about 1/3 of American-born babies have been nestled on a nursing pillow at some point.
Earlier this year, NBC News found, through a similar data analysis, that infant loungers have also been associated with more deaths than previously believed. Sen. Richard Blumenthal (D, CT) and Rep. Jan Schakowsky, (D-Illinois) have since urged federal regulators to take action against these products. Neither loungers nor nursing pillows were included in President Joe Biden's 2022 Safe Sleep For Babies Act, which prohibited the sale of crib bumpers and inclined sleepers (like the Fischer-Price Rock-N-Play, which was recalled in 2019). While the CPSC currently has a dedicated infant pillow task group seeking to address the safety of both loungers and feeding support pillows, they have not yet taken regulatory action.
The American Academy of Pediatrics (AAP) recommends that all infants should sleep on flat and firm surfaces, by themselves, without any bumpers, soft bedding, pillows, or stuffed toys.
This article was originally published on