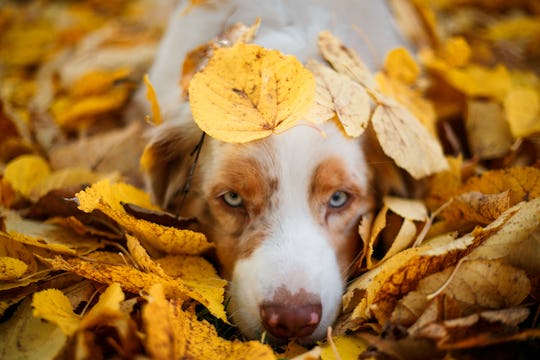 Shutterstock
27 October-Inspired Dog Names For Your Snuggly Pup
What's in a name? Well, a lot. Much like naming your baby, much thought and consideration has to go into what you'll name your new dog. After all, this is the name you'll be calling again (and again) for many years to come, whether it's to get him to eat, take a bath, or to simply stop peeing on your plants. If you're planning on welcoming a furry new friend to your family this month, you're going to need to come up with a name... fast. And these 21 October dog names just might help make the pooch-naming process easier.
Dog names have definitely come a long way from Rex and Fluffy (not that there's anything wrong with those.) All of our dogs have had two names, a first and a middle name. And much like when one of the kiddos is acting naughty, both names are called if I catch someone chewing on a table (the dog, that is, not the kid).
I was only slightly excited to write this story about fall dog names, as my family is planning to adopt a new dog this month, too. I'm not sure what kind of breed we'll wind up bonding with. My 16-year-old has her heart set on a Shar-Pei, while my son is trying to bamboozle me into getting a Bulldog. All I want is a rescue dog to love, and October feels like the right month to bring a new pet into our lives.
(Plus, I really want to dress our new dog up in a Halloween costume. Is that so wrong?)
So why not score some inspiration from the season with an October dog name? It'll remind you of the beautiful time you brought your four-legged friend home and welcomed him or her into your family.
Bringing your new dog home in October means that you have the beauty of the season, special birthdays, (and Halloween!) to inspire you as you come up with the perfect name for your perfect pooch.
This article was originally published on