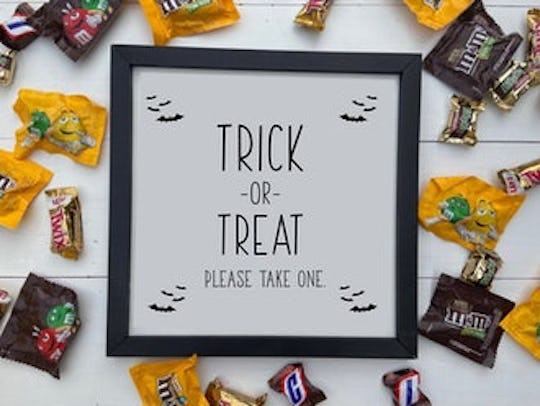 Etsy
11 Cute 'Please Take One' Halloween Signs For Your Halloween Candy Display
Because you want enough candy for everyone (plus leftovers).
A few years ago, I vastly underestimated the number of trick-or-treaters who would be visiting my house. Surprised to have trick-or-treaters at all, I'd let the first 15 or so Batmans and princesses take fistfuls of candy, only to find myself at the end of night completely out of mini chocolate bars. So, I started offering Kind bars instead, and let's just say, the kids were less than enthused (most flat-out turned my bars down without so much as a smile). If you don't want to end up like me, these "Please Take One" Halloween signs will help you ration candy so it lasts all night.
Maybe you'll be out trick-or-treating with your own kids so you won't be able to monitor the candy selection, or for social distance reasons you plan on leaving a bowl outside, or maybe you'd rather have a sign do the talking so you don't have to be the enforcer. Whatever your reasons are, a "Please Take One" Halloween sign is a great way to make sure later trick-or-treaters don't miss out (and maybe you'll even have some Reeses leftover for yourself).
From free printables, to digital downloads, to framed signs you can use year after year, these "Please Take One" Halloween signs are a helpful and polite way to encourage sharing.
We only include products that have been independently selected by Romper's editorial team. However, we may receive a portion of sales if you purchase a product through a link in this article.