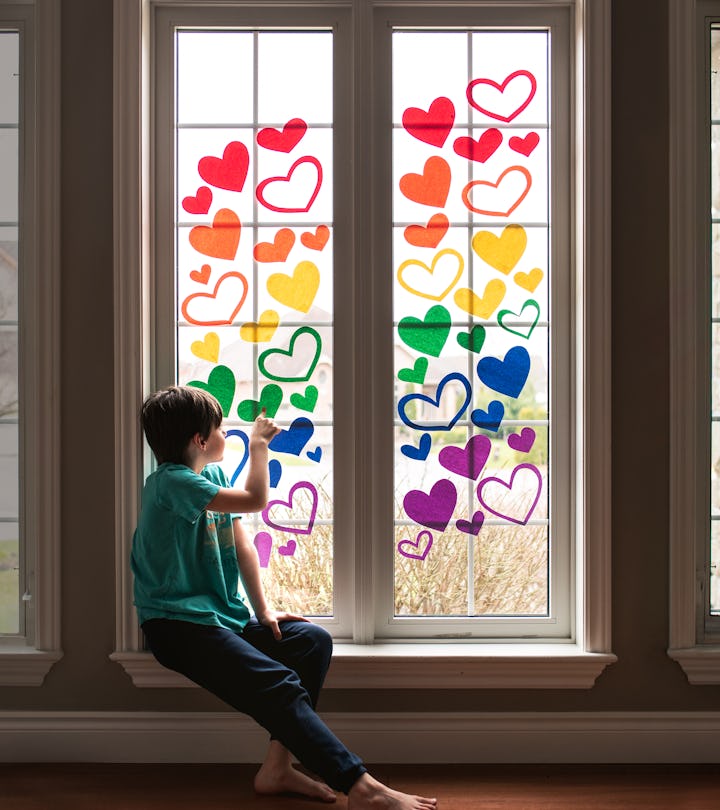 Cavan Images/Cavan/Getty Images
15 Pride Craft Ideas That'll Have The Whole Family Chasing Rainbows
These are so colorful and fun.
June might be the official start of summer, but it's also important for another reason: Pride. That's right, June kicks off Pride Month, which is celebrated by the LGBTQ+ community and its supporters all over the world. It's a time of joy, color, positivity, and of course, pride in being exactly who you are. So if you're looking for a fun way to get into the spirit, these Pride craft ideas are perfect for the whole family.
When it comes to Pride crafts, rainbows are all the rage — so why not use them as a teaching tool if you're crafting with kids? Rainbows can help them to learn about everything from basic colors to acronyms (ROYGBIV) to sunlight and prisms to history (as you're cutting and gluing, tell older kids why Pride is celebrated in June and about its connection to the Stonewall Riots of June 1969). And of course, rainbows make a very cheerful home decor theme, too. As long as you're going to all the trouble of making a craft, you might as well make one that'll look pretty hanging on the wall.
But above all, Pride crafts can help you start a conversation with your kiddo about love and acceptance. Because when it comes to crafting during Pride, it really is all rainbows and sunshine. Whether you're a DIY pro who's a whiz with an X-Acto knife or you're looking for a craft you can do with kids who are too little to use scissors, you'll find a fitting project below.
Pride is a time to celebrate love, inclusion, and equality for all. And if all of those feel-good ideals inspire your creative side, you can create something cute with your kiddo that will help you honor (and rock) that rainbow.
This article was originally published on