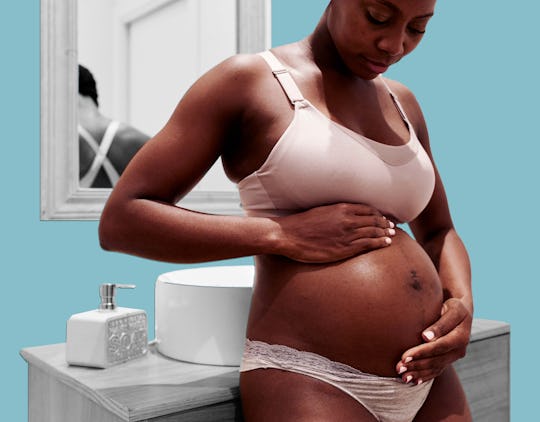 Ivan Gener/Getty Images
The Most Common Reasons You Might Have A C-Section
Top OB-GYNs explain which conditions can lead to surgery.
Influenced by factors like age, health history, genetics, and external environment, the progression of an individual pregnancy will be different every time for every woman. Regardless of how you want to deliver your baby, these factors will ultimately decide whether you have a vaginal birth, like about two-thirds of pregnant people, or deliver via cesarean, which everyone else does. If you're a planner, not knowing how your baby will come out might be a source of anxiety, especially if you would prefer to do it one way or the other. However, you can at least familiarize yourself with some of the reasons you might have a C-section, so if you end up having one, you have a better understanding of why your OB believes it is the best course of action.
How C-sections have changed
Before we get to the medical reasons, it's important to note the ways that the modern C-section has changed since the procedure first became relatively safe, in the early 20th century. Back then, obstetricians used a vertical or "classical" incision, but since the '70s, doctors have more often performed a horizontal incision along the lowest part of the uterus. That means your scar is much farther down on your torso, just above your bikini line where it's less visible. "After safety, I'm all about vanity," says Dr. Geeta Sharma, M.D., a high-risk OB-GYN, who spoke to Romper right after finishing a C-section at Mount Sinai Hospital in New York City. With proper surgical technique, Sharma says, doctors can make the scar much less obtrusive. "I want the patient to be comfortable with the scar."
In 2015, many hospitals began introducing "gentle" C-sections, where your room, temperature, and environment of delivery feel a little less clinical, more like a delivery room than an operating room, which makes sense since you are delivering a baby. "I think it was a great way to get patients more involved with their delivery when they're having a C-section, allowing this to be a celebratory moment and enjoy the magic of the baby coming out," Sharma says. "We never want to forget that this is a baby's birthday, this is people becoming parents."
The biggest difference in a gentle C-section is the drape used during surgery: it has two layers, one opaque, one clear plastic. When your baby is about to be born, the opaque drape is brought down so you can see your child emerge. "I had a patient ask, 'So is it like a doggy door? You can pass the baby through?' It's like, 'No, no,' because you don't want to increase infection for mom. But it's nice that they can see. This morning the baby reached out to its parents. They know who their parents are."
So how can you know whether a C-section is in your future — or at least make an educated guess? If any of the following scenarios applies to you, you may end up delivering your baby via Cesarean.
This article was originally published on