More Rihanna, Less Football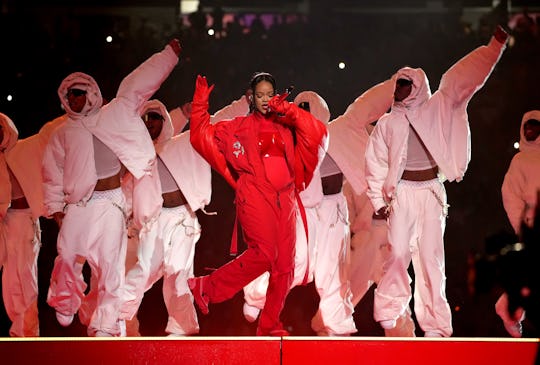 Kevin Mazur/Getty Images Entertainment/Getty Images
Rihanna's Super Bowl Halftime Show Memes Are Also A Gift
Seriously felt those Squid Game vibes.
Let's talk facts, first: Rihanna's Super Bowl Halftime Show might've been one of the best Super Bowl Halftime Shows ever. I mean, it's hard to forget just how many hits Rihanna has, but to hear them all in one big concert as she literally was lifted up in the air and took over an entire stadium? Amazing.
But here's another fact: the show's aesthetics, back-up dancer looks, and even Fenty product placement led to some very fun Super Bowl Halftime Show memes.
Taking the stage (well, several stages) during Super Bowl 57, Rihanna already had everyone curious if her well-placed hand to her stomach was some kind of pregnancy announcement (it was) before she unleashed an iconic performance. Circulating through some of her biggest hits, she and a team of background dancers were up and down on platforms, walking across the field, and dancing in stages with lots of fun camera work. It was an incredible show, and even included her touching up her makeup for a split second in the middle of it all.
But social media gonna social media. As incredible and amazing as her performance was, there were also some fun memes to make out of specific moments. (I mean, the red and white costumes were certainly choices.)
I think every part of the Super Bowl Halftime Show was my favorite. The memes are just an extra gift.