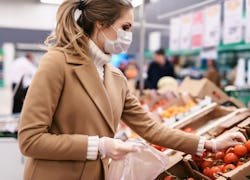 Will Safeway Grocery Stores Be Open On Thanksgiving Day?
Shutterstock
You know, just in case...
There's nothing like planning the perfect Thanksgiving meal — roasted turkey and all the fixin's — and then getting distracted and burning the buttered rolls. In instances such as this, you'll need some last supplies, but are grocery stories, particularly Safeway, open on Thanksgiving day?
Safeway's Thanksgiving 2021 Hours
Thankfully, Safeway is a safe bet on Thanksgiving, particularly if your turkey is still totally frozen. Safeway is open on Thanksgiving 2020, according to Holiday Shopping Hours. But open doesn't mean that the store is holding its regular hours. You'll need to call ahead to see what time they open — and more to the point, what time they close. Because standing outside of a closed store with a list in your hand isn't exactly going to give you an attitude of gratitude.
Safeway's Thanksgiving Deals
Depending on what time your bird got into the oven, it might be a few hours before your family sits down to eat the main meal. To satisfy grumbling tummies, this Deli Catering Tray Finger Sandwich Tray ($39.99) is a fast and easy way to serve up lunch — and woot, it won't require more room in your already crowded oven. Just call ahead so that it's ready when you arrive.
Once you grab a shopping cart and start cruising the aisles, though, you'll find a bounty of yumminess that you can serve for your feast or as finger food while those hard-as-a-rock sweet potatoes finally finish cooking. There's an abundance of appetizers, like the Hormel Gatherings Honey Ham & Turkey Party Tray, ($14.99), or the Deli Catering Tray Meat Lovers Tray ($49.99), a mountain of rolled meat that can serve between 20-24 people.
And if you thought that you might make it through the day (or ack, just the morning) with hyped up kids and crazy cousins crowding in the kitchen, you're going to need your Mommy Grape Juice. So when a bottle isn't enough, you can grab the Bota Box Wine Pinot Grigio. Three liters of the good stuff (which is the equivalent of four 750 ml bottles) costs $19.99 (member's price).
Adult beverages aside, if there's no room left in the oven for baking, you can always score a freshly baked Apple Lattice Pie ($10.49). Of course, apple and pumpkin anything are popular during Thanksgiving, but that doesn't mean you can't go all Golden Girls and serve this sinful New York Chocolate Platter cheesecake ($20.99) instead. Dorothy, Blanche, Rose, and Sofia would definitely approve.
And if you just don't have the time, energy, or inclination to cook on Thanksgiving, now you don't have to. Safeway has a handy dandy Order Ahead option which lets you order anything from apps to antipasto, roasts and turkeys to fruit and veggie trays. Just call your store ahead of time to ensure that you can get your order before the big day.
Even if you have your Thanksgiving meal all mapped out, there's always going to be something that you're missing. Thankfully, Safeway will safely get you through your Thanksgiving meal — as long as you get there early enough.
This article was originally published on