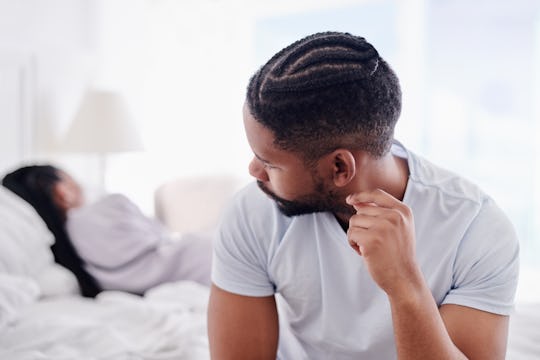 jeffbergen/E+/Getty Images
How To Tell If Someone Is Lying To You: 34 Signs To Watch For
Here are the telltale signs.
Everyone lies from time to time. As much as no one wants to admit it, most people haven't been totally and completely honest in every scenario. Whether it's little lies to spare feelings and uncomfortable situations or full-on toxic whoppers, being on the receiving end of a lie is hard to avoid sometimes. And since pretty much everyone tells a lie, leaves information out of the discussion, or stretches the truth at least every once in a while, you might wonder how to tell if someone is lying or if there are any signs of lying that you can watch out for or body language queues that can tip you off.
We all know lying is something that should generally be avoided. However, telling small white lies every now and again to prevent awkward situations or help someone out can be harmless. That being said, no one wants to be unknowingly lied to and manipulated. "People lie because, quite often, some version of the truth hurts or has consequences," Dr. Alex Dimitriu, dual board-certified psychiatrist and sleep medicine physician, tells Romper. "Lying is often an immediately easy way out, perhaps with bigger consequences later."
People lie for a multitude of reasons with varying degrees of nefariousness, and there are definitely some individuals more prone to lying than others. "In some ways, you could see lying as an impulse control problem — exchanging immediate rewards while risking larger stakes," Dimitriu says. "The immediate reward of lying is avoidance of uncomfortable situations, or basically getting out of trouble." Reasons someone might lie include protecting their own or another's feelings, doing something wrong and fearing repercussions, gaining an advantage (such as power and control), or doing it simply because it's fun for them.
How to tell if someone is lying to you
Knowing when someone might not be telling you the truth or giving you the whole story is a useful skill to have. It helps you bypass uncertainty and someone taking advantage of you. If you pay attention to what someone is saying, how they're saying it, their body language, their eye movements, and the energy they're giving off, you might be able to suss out whether or not they're lying to you. Below, you'll find 34 signs of lying, as explained by experts.
One thing to note about all of these signs of lying is that not all of them will apply to every person and scenario — some might play out or none might play out. Even with all of these clues in mind, it's important not to get too into your head and overthink each time you suspect someone is lying to you. All in all, lie detection is no easy task, but if you do find out someone is being untruthful, it's never too late to address the situation.
Sources:
Dr. Alex Dimitriu, M.D., double board-certified psychiatrist and sleep medicine physician and founder of Menlo Park Psychiatry & Sleep Medicine and BrainfoodMD
Casherie Bright, ACMHC, mental health counselor
Studies Referenced:
Fisher R.P., Vrij A., Leins D.A. (2013) Does Testimonial Inconsistency Indicate Memory Inaccuracy and Deception? Beliefs, Empirical Research, and Theory. In: Cooper B., Griesel D., Ternes M. (eds) Applied Issues in Investigative Interviewing, Eyewitness Memory, and Credibility Assessment. Springer, New York, NY. https://doi.org/10.1007/978-1-4614-5547-9_7
Gunnery, S. D., & Ruben, M. A. (2016). Perceptions of Duchenne and non-Duchenne smiles: A meta-analysis. Cognition & emotion, 30(3), 501–515. https://doi.org/10.1080/02699931.2015.1018817
McCormack, T. & Ashkar, A. & Hunt, A. & Chang, E. & Silberkleit, Gent & Geiselman, R.E.. (2009). Indicators of deception in an oral narrative: Which are more reliable?. American Journal of Forensic Psychiatry. 30. 49-56. https://www.researchgate.net/publication/287426657_Indicators_of_deception_in_an_oral_narrative_Which_are_more_reliable
Goupil, L., Ponsot, E., Richardson, D., Reyes, G., & Aucouturier, J. J. (2021). Listeners' perceptions of the certainty and honesty of a speaker are associated with a common prosodic signature. Nature communications, 12(1), 861. https://doi.org/10.1038/s41467-020-20649-4
Larsen, R. S., & Waters, J. (2018). Neuromodulatory Correlates of Pupil Dilation. Frontiers in neural circuits, 12, 21. https://doi.org/10.3389/fncir.2018.00021
Geiselman, R.E. & Elmgren, S. & Green, C. & Rystad, I.. (2011). Training laypersons to detect deception in oral narratives and exchanges. American Journal of Forensic Psychiatry. 32. 43-61. https://www.researchgate.net/publication/287426556_Training_laypersons_to_detect_deception_in_oral_narratives_and_exchanges
Arciuli, J., Mallard, D., & Villar, G. (2010). "Um, I can tell you're lying": Linguistic markers of deception versus truth-telling in speech. Applied Psycholinguistics, 31(3), 397-411. https://doi.org/10.1017/S0142716410000044
Shen X, Fan G, Niu C and Chen Z (2021) Catching a Liar Through Facial Expression of Fear. Frontiers in Psychology 12:675097. https://doi.org/10.3389/fpsyg.2021.675097
Masip, J., Martínez, C., Blandón-Gitlin, I., Sánchez, N., Herrero, C., & Ibabe, I. (2018). Learning to Detect Deception from Evasive Answers and Inconsistencies across Repeated Interviews: A Study with Lay Respondents and Police Officers. Frontiers in psychology, 8, 2207. https://doi.org/10.3389/fpsyg.2017.02207
Harker M. (2013). Psychological sweating: a systematic review focused on aetiology and cutaneous response. Skin Pharmacology and Physiology, 26(2), 92–100. https://doi.org/10.1159/000346930
Pérez-Rosas, V., Abouelenien, M., Mihalcea, R., and Burzo, M. (2015). Deception Detection using Real-life Trial Data. In Proceedings of the 2015 ACM on International Conference on Multimodal Interaction (ICMI '15). Association for Computing Machinery, New York, NY, USA, 59–66. DOI:https://doi.org/10.1145/2818346.2820758
Benitez-Quiroz, C. F., Srinivasan, R., Martinez, A. M. (2018). Facial color is an efficient mechanism to visually transmit emotion. Proceedings of the National Academy of Sciences, 115 (14) 3581-3586. https://doi.org/10.1073/pnas.1716084115
Vrij, A., & Fisher, R. P. (2020). Unraveling the Misconception About Deception and Nervous Behavior. Frontiers in psychology, 11, 1377. https://doi.org/10.3389/fpsyg.2020.01377
Matsumoto D and Hwang HC (2018) Microexpressions Differentiate Truths From Lies About Future Malicious Intent. Frontiers in Psychology 9:2545. https://doi.org/10.3389/fpsyg.2018.02545
This article was originally published on