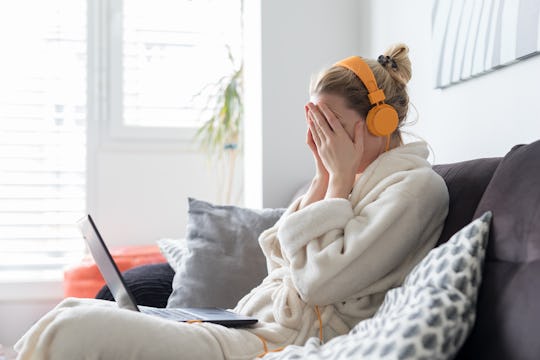 Matej Kastelic / EyeEm/EyeEm/Getty Images
10 Songs About Miscarriage & Pregnancy Loss To Help You Cope
These songs can offer some solace during this difficult time.
It doesn't matter if your baby was the side of a poppy seed or a bell pepper. Losing a pregnancy due to miscarriage is heart wrenching, especially if you've heard a heartbeat or felt a fluttering in your belly. And while miscarriage is common, it's still very much a taboo subject, which leaves many women (and their partners) to suffer silently for a loss that can feel almost too difficult to bear sometimes. In those moments when music can be a much-needed comfort, these songs about miscarriage can remind you that you're not alone.
Miscarriage is the loss of pregnancy at less than 20 weeks of gestation, a PubMed study reported. It's estimated that about one in four pregnancies ends in miscarriage, according to the American College of Obstetricians and Gynecologists (ACOG). While a miscarriage can be devastating, sometimes knowing that other people have gone through the same thing can make you feel better, and feeling their pain in song reaffirms that it's absolutely okay to mourn your loss — because it's real, it's big, and your pain and sadness needs to be honored, never forgotten. Music can act as a comfort, something you can sing and cry along to, giving voice to your grief in the most melodic of ways.
If you haven't already, take a listen to these songs about miscarriage, which just might offer you comfort while you heal — both physically and emotionally.
Because it's rarely spoken of, listening to songs about miscarriage seems like a celebration of sorts. It brings normalcy to an issue that affects so many women, and elevates it into our everyday vernacular so that a miscarriage is no longer something to be ashamed of, and allows you to understand that it's never, ever your fault. Ultimately, these songs are meant to educate people, offer some compassion for those who have survived it, soothe your soul and help you heal.