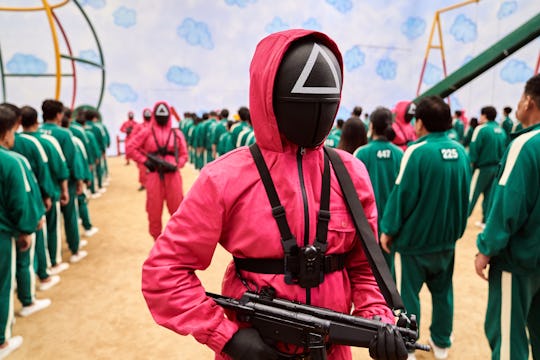 Netflix
New York School District Bans Kids From Wearing Squid Game Halloween Costumes
There are concerns about violence.
The South Korean television series Squid Game on Netflix follows debt-ridden people forced to compete in a series of children's games that turn deadly as they try desperately to win a cash prize. Those running the games all wear these costumes that are essentially jumpsuits with face masks, and considering the massive popularity of the show it makes total sense that those costumes are now being sold for Halloween. But at least one New York school district is saying no to Squid Game costumes, citing concerns over violent behavior that has been modeled on the series.
The Fayetteville-Manlius School District in New York has sent out an email to parents and caregivers with children at three elementary schools letting them know that Squid Game costumes will not be allowed due to the mature content and violent nature of the show. In a statement shared with CBS News, Superintendent Dr. Craig Tice explained that principals "wanted to make sure our families are aware that it would be inappropriate for any student to wear to school a Halloween costume from this show because of the potential violent messages aligned with the costume."
Dr. Tice added that some of the kids have already been displaying some concerning behavior. "Some of our younger students are talking about and mimicking aspects of the show/game at school," Dr. Tice said. "Parents and guardians … have the opportunity to speak with their children themselves about it and reinforce the school message that games associated with violent behavior are not appropriate for recess."
'Squid Game' costumes are being banned at school.
Other school districts have issued warnings about violent behavior kids are modeling from the show. Bay District Schools in Florida wrote in a Facebook post earlier this month, "some children are trying to replicate show scenes at school but what sounds harmless (who didn't play Red Light/Green Light as a kid?) is not actually harmless because the game in the television show includes 'elimination' (death) and we are seeing kids trying to actually hurt each other in the name of this 'game.'"
Central Integrated Primary School in the United Kingdom released a similar statement on Facebook, asking parents to be "aware of what your children are accessing through there online devices," and reminding them that Squid Game "is classed as hyper violent and is most definitely not appropriate for primary aged children to be watching."
Squid Game is rated mature and recommended for viewers over the age of 17, and despite its popularity, it's certainly not intended for young children.