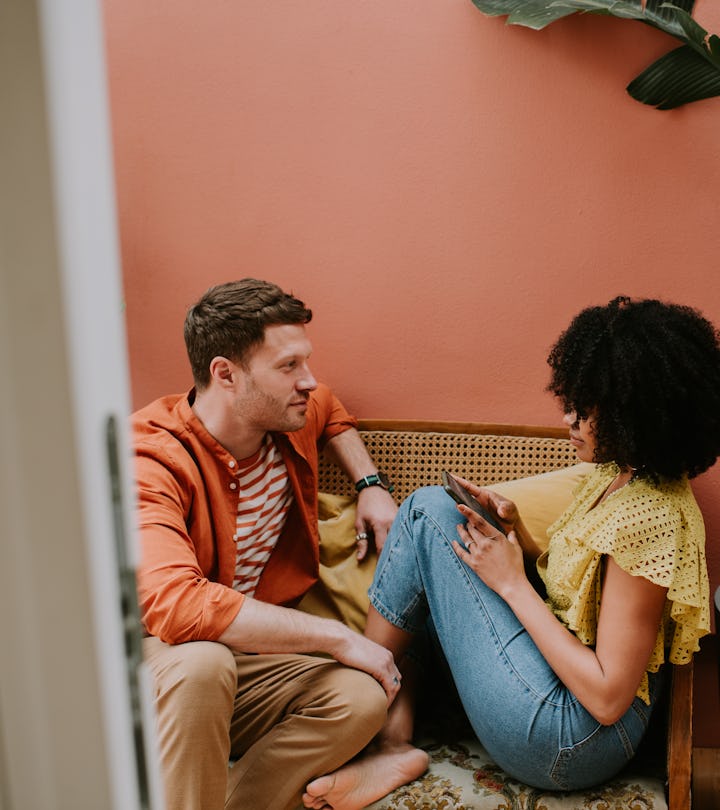 Catherine Falls Commercial/Moment/Getty Images
10 Things To Talk Through Before Having Sex Postpartum
Life has changed. Your feelings about sex may have changed, too.
Remember those steamy nights when you and your partner ripped off your clothes and got busy in the middle of the living room? Sure you do. In fact, that's probably how you ended up with a new baby. And now that the baby's here, you're going to go right back to all that X-rated business, right? Well, maybe not right away. Having a baby changes more than just your sleeping schedule — that little bundle's arrival will probably influence your sex life as well. Open communication is key when it comes to postpartum sex. But it can be hard to know how or when to even broach the topic. "It's best to keep an open line of conversation and discuss concerns and expectations before the baby is born, as well as after," says Dr. Jill M. Krapf, an OB-GYN who specializes in female sexual pain.
How to talk to your partner about postpartum sex
When broaching the subject of postpartum sex, use your best communication skills, and make time to have the conversation outside of the bedroom rather than during a sexual encounter, suggests Dr. Laurie Mintz, Professor of Psychology at the University of Florida and author of A Tired Woman's Guide to Passionate Sex and Becoming Cliterate. "The best time to have the talk is before a problem emerges to prevent it or, if a problem emerges, as soon after as possible," Mintz urges. "Start with a meta-communication (or a communication about communication) and then own your needs with a clear 'I' statement. Then, ask the partner's reaction with curiosity."
Mintz offers a simple example that you could use as a template for starting a conversation about what you and your partner should expect from postpartum sex:
I want to talk to you about something that is a bit difficult to talk about, yet I need to do so because I love you and our relationship. I hope you will listen and not get defensive or worried. I want to have this conversation because I want us to stay connected, emotionally and sexually, as we transition into parenthood.
The chaos of pregnancy doesn't end after you get that baby out of your belly. Body changes, emotional or hormonal fluctuations, and physical realities (hello, next-level exhaustion) may cause you to feel less like yourself than ever before. Krapf emphasizes the importance of letting your partner know about everything that's going on with you as you adjust to your new life, saying that "the 6-week postpartum check is not meant to be an 'all clear' for sexual activity. It is a time to check healing and ask questions about expectations moving forward based on your individual birth experience and breastfeeding plan." Here are 10 things to talk about as you find your footing, together.
The first few times you have sex postpartum may feel a bit unfamiliar and — let's be honest — awkward. Remember that it's super normal to feel a little confused and clumsy as you try to find your groove again. Time and patience will likely get you right back to more familiar territory. Waiting until you're really ready, stocking up on lube, and talking through what to expect with your partner, should help make it a better experience for all.
Experts:
Dr. Jill M. Krapf, M.D., MEd FACOG IF, Associate Director, The Center for Vulvovaginal Disorders and Clinical Associate Professor, The George Washington University
Dr. Laurie Mintz, Professor of Psychology at the University of Florida and author of A Tired Woman's Guide to Passionate Sex and Becoming Cliterate
This article was originally published on