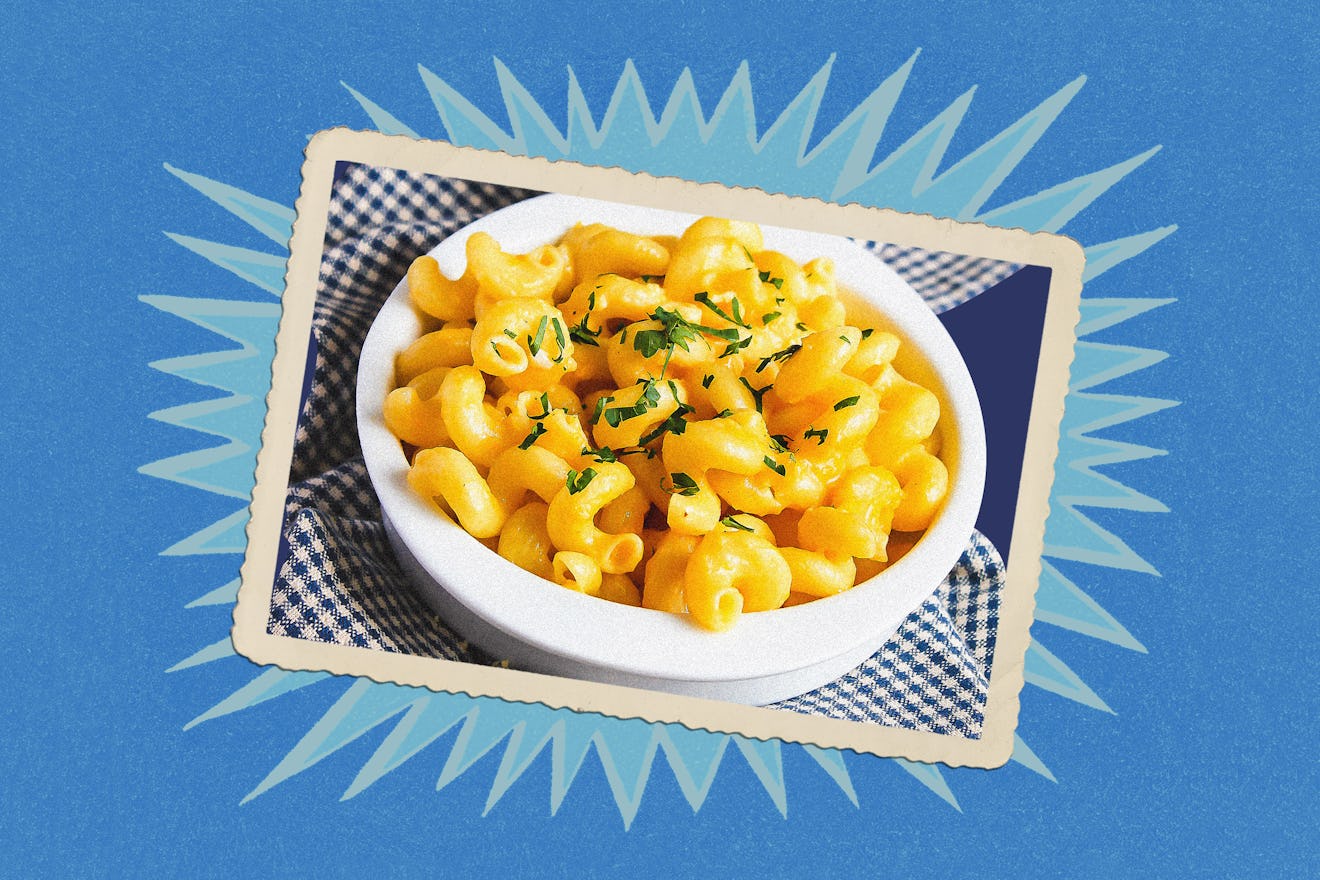 The Thanksgiving Mac & Cheese Recipe To Help You Win Best At The Table
Valedictorian of Thanksgiving: you
"You're bringing mac and cheese, right?" When it comes time to volunteer to bring a dish to a Thanksgiving potluck with friends, or the real deal holiday dinner with family, someone always asks. I've been the designated macaroni and cheese maker among my loved ones since 2015. It was the first year my then-boyfriend — now-husband — and I hosted in the house we just bought, and I was feeling all domestic, so I decided to try my hand at making homemade mac. I swiped through Pinterest until I landed on a recipe that basically chose itself for me. It's called THE Mac & Cheese, for crying out loud — what was I supposed to do, keep scrolling? Turns out, I stumbled upon the best mac and cheese recipe for Thanksgiving (and any other holiday dinner or potluck), and I've been making it ever since.
Alison Kirksey, the blogger behind That Which Nourishes, was not kidding when she named this dish. It has become her blog's claim to fame and is the most pinned macaroni and cheese recipe on Pinterest. And now, it's famous among our friends and family, too. My relatives count on its presence among the other sides at Thanksgiving. Once when a neighbor offered to bring his version of mac and cheese to a barbecue because it's the best, my friend leaned in and whispered, "There's no way it's better than yours." It's creamy, incredibly cheesy, and each bite is extra satisfying thanks to the Panko bread crumb topping.
The best part of this recipe is that you don't have to be a good cook to make it. I do not enjoy being in the kitchen, not one bit, and overall, I'd give my cooking a C+. But this recipe is as easy to follow as it is delicious. And now that I'm well-acquainted with making it, I actually kind of enjoy recreating it each year.
*The* Mac & Cheese, from That Which Nourishes
Ingredients
1 lb. pasta of your choice
½ cup butter
½ cup flour
4 cups milk
6 cups freshly shredded sharp or white Cheddar
½ Tbsp Kosher or sea salt
½ Tbsp pepper
2 Tbsp butter
½ cup Panko bread crumbs
Directions
Preheat oven to 325 degrees Fahrenheit.
Boil pasta in salted water according to package directions.
Melt butter in large saucepan over medium heat. Sprinkle in flour and whisk, cooking for 2 to 3 minutes. Add in salt and pepper.
Slowly pour in 4 cups milk, whisking until smooth and heating to a low boil until thickened. Do not stop whisking and cooking until thick. Remove from heat.
Grease a 9 x 13" baking dish and add the hot pasta to the dish. Over the top, sprinkle 6 cups of freshly shredded cheese.
Pour the thickened cream sauce over the hot pasta and cheese and let it sit until the cheese melts. Stir everything together.
Melt 2 Tbsp butter over medium heat. Add in Panko bread crumbs, stirring constantly for 3 to 5 minutes or until golden brown.
Sprinkle the bread crumbs over the mac and cheese.
Bake for 12 to 15 minutes.
After years of making this, I've learned a few things: cavatappi noodles just work best with this recipe. I've used Italian bread crumbs in a pinch, but Panko will always add the superior crunch. As for the cheese, I buy three blocks of white cheddar and two blocks of sharp cheddar to have six cups when grated, plus a little extra. Grating it fresh really does make all the difference in the world, and that can take a while, so I always do it the night before I make the mac. After two years of hand grating five blocks of cheese, I bought the cheese grater attachment for my Kitchenaid (which I must shamefully admit I don't really use otherwise).
This recipe serves 10 to 12 people — important to note because you will want leftovers, so account for that when deciding how much to make. The original recipe post includes instructions for making this mac in a slow cooker, too. I've never tried it myself, but I trust Kirksey on this one. And remember: don't make this unless you can commit to doing it again and again, for every Thanksgiving ever, until you die. Otherwise, your loved ones will riot.