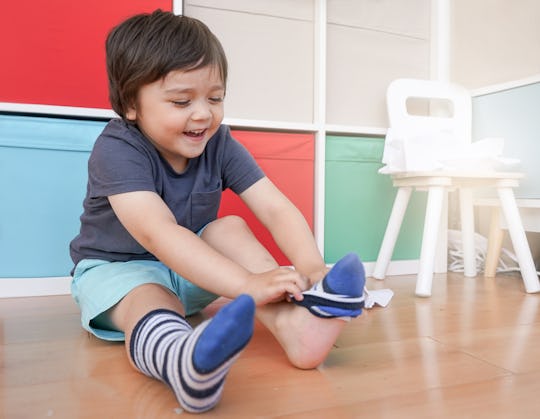 Shutterstock
These Socks Are Perfect For Your Toddler, So You Can Call Off Your Search
We may receive a portion of sales if you purchase a product through a link in this article.
Socks are one of the most important, overlooked clothing necessities your little one needs. The best socks for toddlers are, of course, comfortable and preferably made from natural fabrics like cotton and wool that wick away moisture and keep little feet cool, dry, and free from blisters.
Just as toddler clothing comes with features designed specifically for toddler needs — like plenty of elastic waistband leggings and button-fly jeans that are simple to pull on and off for potty training — toddler socks are also designed with toddler behavior in mind.
Getting tired of watching your toddler rip off socks and throw them under the couch about five minutes after you dress them? Try a pair of triple-roll socks that are more difficult for them to remove, but also give you three sock length options. Can't stand pairing your toddler's colored socks because one (or eight) are always missing? Make life easier on yourself by investing in simple white socks that come 12 socks in a pack. Some of the best toddler socks have features like non-skid grips to keep toddlers safe on slippery floors and soft, cushiony tabs that make it a snap to dress your toddler and remove or put on socks.
A quality pair of the best toddler socks are a must — and these four great pairs will keep your little one's feet safe and warm.
This article was originally published on