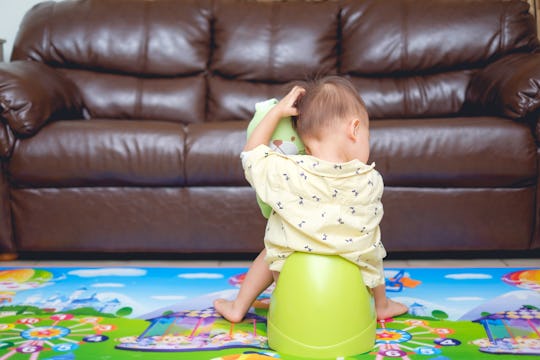 yAOinLoVE/Fotolia
8 Ways Your Potty-Training Toddler Is Trying To Say "Hang In There"
I'm not going to sugar-coat things: potty training is the goddamn worst. In fact, not only is it one of the worst parts of parenting, it's the worst thing you'll ever experience in your entire life. But when I stop and think about the experience, co-mingled with the seemingly endless accidents and failed attempts at bribery, there are so many ways your potty-training toddler is trying to say "hang in there" while you contemplate just how awful it would be to send your kid to college with a package of diapers.
And you totally should hang in there. It will get better. Today, your potty-training toddler might pee their pants at Target, or worse, in their car seat. And yes, today they might decide to poop in the corner of the living room, under the dining room table, or pretty much anywhere that's not the toilet. They might totally refuse to use public restrooms, delay bedtime, and finally tell you they have to go as soon as you get them strapped into their car seat. But one day, and maybe even tomorrow, they will start to stay dry all day and all night, ask you for big kid underwear, and finally poop in the damn toilet. As they meet these milestones, you will believe a bit more each day that you are doing OK, and that some day you might get to join them in a potty celebration dance.
So as someone who has been through potty training hell twice I can tell you that this, too, shall pass — literally and figuratively. I promise that the chances are high your child won't be using pull-ups when they start middle school, and probably won't poop in the corner of their college dorm room. Parenting is hard, you guys, but moms are strong as hell. Even your potty-training toddler knows that you're up for the job. You've just got to listen, and they will tell you.