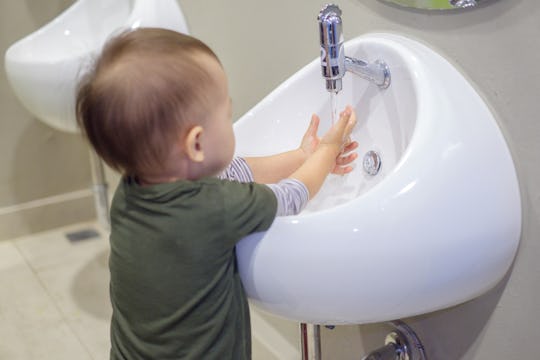 yAOinLoVE/Fotolia
13 Moms Share How They Eradicated Their Kid's Fear Of The Public Restroom
Potty training is one of the worst parts of parenting. And just when you think it couldn't get more shoddy than trying to teach your child how to use a toilet at home, you're forced to brave the outside world with your potty-training child. And that, my friend, is when you descend into the seventh circle of hell: teaching your kids to use public bathrooms. Because, to toddlers, bathrooms are scary, and getting over their fear of the public restroom is a daunting, often overwhelming task. Yes, for all involved.
It's understandable, of course. I mean, I hate public restrooms, too. They're loud, gross, and you never know what to expect. Will there be toilet paper? Will the person before you flush? Will there be soap? In my experience, the answer to all of those questions is a resounding "no." To make matters worse, the automatic toilet flusher will inevitably go off before your child is done and scare the sh*t out of them, the door lock won't work and someone will walk in on you, the sinks will be too high for your little one to reach so you will have to prop them between the sink and your body to help them wash their hands, and the water will be too cold or too hot. Then the way-too-damn-loud hand driers will go off, your toddler will be startled and probably run out of the bathroom, leaving you with your baby on one hip as you try to dry your still-wet hands. Or worse, your toddler will throw themselves down on the floor and throw a tantrum... in a public restroom. Who the hell even knows what lives on those floors, you guys.
Fortunately, over the years and in my many conversations with experienced moms, I've learned (and tried) a few things to make taking your kid to the bathroom a little bit less scary and stressful. So far, my favorite is using your hand or a sticky note (if you don't want to touch a public toilet) to cover the automatic flusher, and carrying baby wipes and hand sanitizer in your purse so you can avoid sinks, towels, and driers entirely.
I know I'm not the only mom with some go-to tricks and tips to making a visit to the public restroom with a toddler as pain-free as possible, so I asked other moms to share their knowledge with the rest of us. Since you can't stay home forever, it's best to rip off the Band-aid and grab some provisions. It will be gross, sure, but it just might be a little bit easier to manage if you do some of the following: