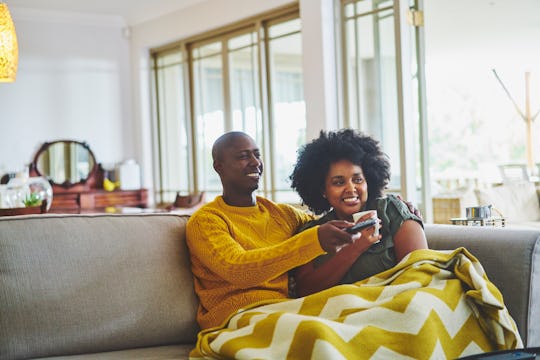 Stígur Már Karlsson /Heimsmyndir/E+/Getty Images
These 23 Classic Rom-Coms On Disney+ Are The Escape You Need Right Now
Starring bold heroines, princesses, and mermaids, these films are simply magical.
There's nothing like a sweet romantic comedy to take you away from the real world for a couple of hours. The assortment of classic rom coms on Disney+ represents some of the best of the genre, with so many classic flicks from the past few decades (and beyond) that are just perfect for putting on while you cuddle up under a blanket and pretend the outside world doesn't exist.
Best of all, the Disney+ selection of romantic comedies includes a taste of just about everything. First, there are some classic comedies from the 1960s that everyone should see, including an iconic performance from Barbara Streisand. Fantasy films from the 1980s are well-represented too, including an adorable mermaid movie that predates Ariel's adventures. And any kid who grew up in the '90s will remember the hit rom-coms from that era, with leading ladies such as Sandra Bullock or Julia Stiles. There's even a selection of movies from the early 2000s, which means plenty of Lindsay Lohan features are headed your way. Although there's clearly plenty of great kids' shows to stream on Disney+, don't overlook the site's selection of rom-coms that adults will enjoy, too.
Of course this is a Disney-centric service, so there's also a collection of made-for-TV Disney Channel movies about teen crushes from back in the day. (They're super-fun to revisit as an adult for the nostalgia hit, as well as a chance to peek at those sweet early-aughts fashion ensembles.) And unlike some of the more "adult" rom-coms on Amazon Prime, these Disney films are generally pretty family-friendly so you can have them on when the kids are around. Anytime you need to relax with a cozy, heartfelt film, these classic romantic comedies on Disney+ are well worth the watch.
Anytime you need a little break from reality, there's a perfect romantic comedy on Disney+ ready to whisk you away.